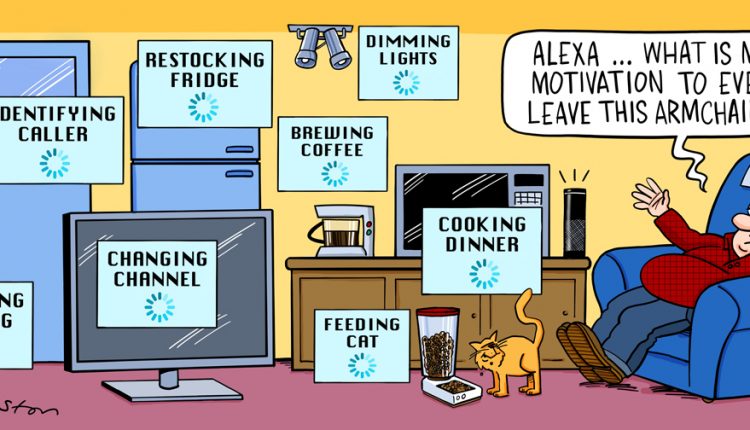 There's no place like a smart home
According to the Centers for Disease Control and Prevention (CDC) from 2014, 70.7% of adults aged 20 and over in the US are either overweight or obese. Is it surprising when IoT devices now outnumber humans?
The 'traditional' smart home used to be a home with smartphone (or clap) controlled lights, music speakers in every room and a security camera. Our understanding of a smart home has now changed. It's more than smart – it's intelligent. Smart home technology has become so sophisticated that it now has the capability to not only be controlled remotely via smartphone or remote control, but now collects data and analyzes it. More than that – now it cross-analyzes data across different IoT devices – and it's not just what the traditional devices can now do – it's what they are doing it for.
You can answer your door without being home, just check out the Amazon delivery doorbell, or you can feed and play with your pet without physically doing it yourself. Then it goes further, perhaps you don't feel well – no need to leave the sofa, you can get diagnosed using your smartphone. Panasonic even unveiled a washing machine to fold your clothes, a voice-responsive mobile fridge and a smart sake cooler that recommends meal pairings for your chosen bottles at the consumer electronics fair IFA in Berlin. These were just concepts, but we suspect the reality is not far off.
With technology to do all of your errands, to schedule your coffee in the morning and to allow you to answer the door without walking to it – to automatically restock the fridge via Amazon delivery – it's no wonder obesity is on the rise.
Don't worry though, there's a technological solution for this too. Enter a million fitness watches and heart rate sensors to the rescue.