This High-Tech Shower Head Got Silicon Valley's Attention With 70% Water Savings
Names like Kohler and Delta are probably what you think of when it comes to bathroom installations, but one San Francisco start-up wants to change that with a completely different kind of shower head you can install in your bathroom called Nebia.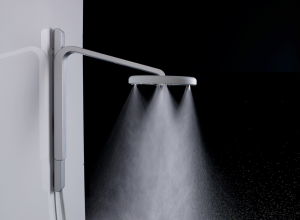 The Nebia shower head uses 0.75 gallons per minute (GPM) compared to industry average 2.5 GPM, and may come to benefit California residents in response to recent droughts and demands by officials to cut water consumption.
The shower head was the brainchild of at the time Mexico City health club CEO Carlos Gomez Andonaegui in an attempt to reduce water consumption, who teamed up Phillip Winter and Gabriel Parisi-Amon (an Apple employee at the time) to bring the concept to America and get the word out about their technology.
"Showers have been the same for 100 years. Not only do we need a more efficient solution, we need an all around better experience in our daily routines," said Philip Winter, Co-Founder and CEO. "We set out to create a better shower experience first, and save as much water as possible. It turns out the age old belief that more water equals a better experience isn't necessarily true."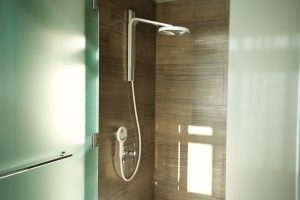 The Nebia shower head atomizes water into millions of tiny droplets, creating a surface area of water 10 times greater than that of a regular shower. Over the past year, the company has been conducting beta tests with over 500 people showering at local institutions such as Equinox Gyms, Google, Apple, and Stanford University. According to Nebia, the testers claim it provides a new and different experience, but much more refreshing and relaxing.
The Nebia team used computational fluid dynamics software like the kind used to study jet engines in order to understand the fluid mechanics and thermal properties of the water as it flows from the wall outlet into and out of the nozzles. Computational fluid dynamics (CFD) allowed Nebia engineers to validate breakthroughs and learn more about temperature and rinse-ability.
Nebia comes with a set of nozzles just like any other shower, but in this model, each one is focused on warming and rinsing different parts of your body. Anyone using the shower has the ability to adjust the water pressure strength that will send out a higher velocity spray with slightly larger water droplets providing a traditional shower feel but without the extra water a traditional shower wastes.
Aside from water savings, how does Nebia save you money?
According to the company's Kickstarter page, "over 61% of the cost of your shower goes straight to heating the water you use, yet, in a regular shower, 97% of the thermal energy is lost down the drain. The remaining 3% of the heat is transferred into the air and into you."
The company devised a way to transfer 13 times more heat from the water into the environment and the user by atomizing the water into millions of droplets.
If everyone in the state of California transitioned to Nebia shower heads, the company estimates a total annual savings of 200 billion gallons of water and nearly $4 billion.
The company has a Kickstarter campaign going and has raised $948,000 of its original $100,000 funding goal. You can get some more information or order a Nebia shower head for $299 here.