Volvo Cars implements Microchip's MOST150 Devices for Ethernet Packet Transport
Microchip Technology Inc. , a leading provider of microcontrollers, mixed-signal, analog and Flash-IP solutions, today announced that the Volvo Car Group smoothly migrated from MOST25 to the latest MOST150 standard in its all-new Volvo XC90 model, using Microchip's OS81110 Intelligent Network Interface Controllers (INICs). After many years of using Microchip's MOST25 INICs, Volvo Cars needed to enable its latest infotainment systems with the ability to carry Ethernet packets. MOST150 was a natural choice because, in addition to all of its other features, it is the first and only standard to provide a proven, automotive-ready physical layer for Ethernet packet transport inside cars. And it does so in accordance with the IEEE 802.3 Ethernet specifications.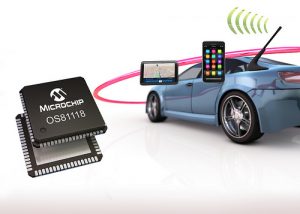 To learn more about Microchip's MOST® networking products, visit http://www.microchip.com/MOST-052615a.
To date, more than 170 million MOST interface controllers have been installed in 184 car models since 2001. Volvo Cars and all major  carmakers have for many years successfully implemented MOST technology in their multi-node infotainment networking systems, as it provides a field-proven, low-risk, whole-system solution. The MOST150 standard meets Volvo Cars' connectivity and bandwidth demands. This latest version of MOST technology continues to predictably and efficiently transport video, audio, packet and control data throughout the vehicle without time-synchronization protocols, using dedicated channels for minimal processor overhead in the main infotainment control unit processors.
"We are pleased to welcome Volvo Cars as the fourth carmaker to adopt MOST150 technology as its high-speed infotainment network," said Dan Termer, Microchip's Automotive vice president. "This is another example of an OEM migrating to MOST150. Their experience with the MOST technology standards and their expanding needs led them to select MOST150 for their new and future car models."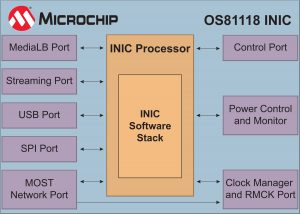 MOST150 also provides 150 Mbps performance and proven electromagnetic-compatibility (EMC) behavior. This EMC performance is particularly good when combined with the optical physical layer that is utilized in the all-new Volvo XC90 model.
All MOST INICs offer industry-standard hardware interfaces to processor and peripheral devices for the efficient routing of streaming, packet and control data, which greatly simplifies module designs. End users can immediately access the vehicle's infotainment system, due to the MOST INIC's ultra-fast network startup behavior.
The MOST Cooperation standards enable automotive OEMs and their Tier 1 suppliers with a proven and well-supported methodology for defining and implementing high-bandwidth infotainment and Advanced Driver Assistance (ADAS) systems, including a standard physical layer and a robust method for system management and control with superior reliability and Quality of Service (QoS). Using MOST technology also results in reduced weight for easier compliance with environmental regulations.