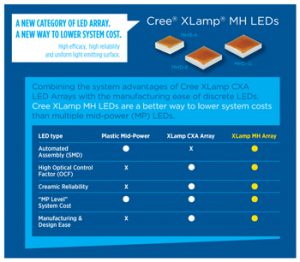 Cree's New XLamp MHD Family Delivers Chip-on-Board Performance in a Surface-Mount LED
Building on the success of the groundbreaking XLamp® MH family of LEDs, Cree, Inc. (Nasdaq: CREE) introduces the XLamp MHD-E and MHD-G LEDs, the high-power LEDs that combine the high lumen density and reliability of a ceramic chip-on-board LED with the design and manufacturing advantages of a surface-mount package. Utilizing elements of the Cree SC5 Technology™ Platform, the ceramic XLamp MHD LEDs simplify development, increase design flexibility and improve manufacturing efficiency compared to mid-power LEDs. The MH family enables new designs and significantly lower system costs, all while delivering industry-leading performance.
"The high lumen output and high reliability of Cree's new MHD-G LED allows us to develop a new downlight that outperforms other downlights in the market," said Baly Luo, general manager, Aeon Lighting Technology. "ALT's compact-size, 4-inch downlight that is built with the MHD-G LED generates over 1,800 lumens at 3000 K while other downlights can only produce 800 to 1000 lumens."
Featuring Cree EasyWhite® technology in a 7-mm x 7-mm package, XLamp MH LEDs enable a smaller board size, tighter beam angle and a more traditional appearance than mid-power LEDs. Delivering more than 1800 lumens at 14 W and 2500 lumens at 19 W respectively, the XLamp MHD-E and MHD-G LEDs are ideal for semi-directional, high-lumen applications such as downlights, high-bay and outdoor area applications.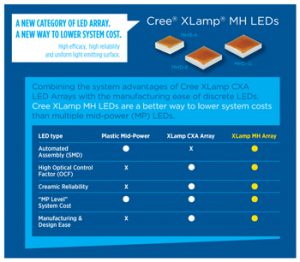 "At Cree, we continue to deliver innovative products that give our customers a competitive edge in the marketplace," said Paul Thieken, Cree director of marketing, LED Components. "With the MHD LEDs, we're offering chip-on-board performance to lighting manufacturers that prefer surface-mount technology, making it easier for them to achieve lower system cost than with the same commoditized mid-power LEDs that everyone is using."
Cree XLamp MHD-E and MHD-G LEDs are available in 2700 K – 6500 K with high-CRI and multiple voltage options.