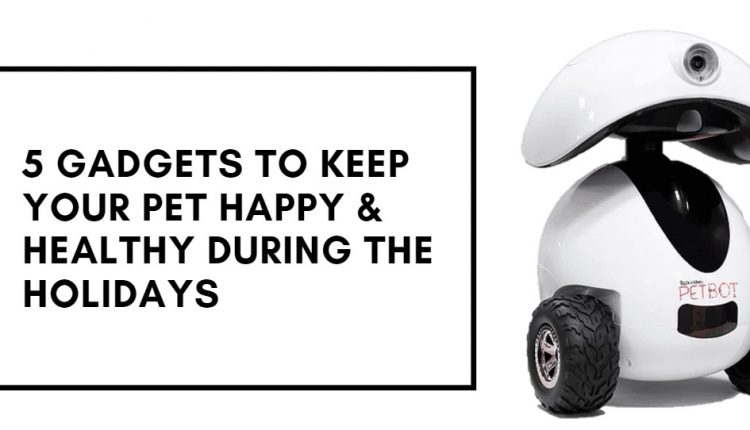 Our pets bring us joy. They can reduce stress, anxiety, and depression and lessen loneliness. They even encourage exercise and play to keep us healthy. All of these benefits of pet ownership come with trade-offs, of course. Pet owners put up with 7:00 a.m. walks in the winter cold, scooping poop from a box, and playful nips from pet lizards. 
With everything that they do for us, of course we want our pets to be healthy and happy. But, as our schedules and decor change during the holidays, we can be adding stress to their lives.
So, here are a few techy gadgets that can help us help them.
Regardless of whether your best friend has fur, fins, scales, or feathers, they need access to fresh water. Water that sits in a dish for even a day can be stale, and if the bowl isn't cleaned each time, can contain dust, dander, and dirt, not to mention bacteria.
Kitty Spring is a no-filter, no-motor, no-noise glass fountain that encourages your cat to drink more water. (We all need to drink more water, it seems). The simple water reservoir and whisker-stress-free dish is compact, attractive, and provides water that is always fresh.
2. Fresh Food –
Kibus
Kibble, or dry dog food, didn't exist until after 1920. Before then, dogs were kept as working animals and ate whatever the family was eating.
Today, dogs are man's best friend – not workers – but many dog owners have come full circle when it comes to their dog's diet. Turns out, people from the turn-of-the-century were right; cooking for Fido can fulfill his nutritional needs better than grocery store dog food. But instead of feeding our dogs the processed food we eat, it's best to choose human-grade, dehydrated pet food. That's why we're so excited about Kibus, the world's first automated dog food cooker.
The Kibus has two canisters: one for dehydrated dog food and the other for water. You can set up a feeding schedule, program the amount of food you want to serve, and walk away. You'll only need to refill the reservoirs about once a week, and your furry friend will have fresh, nutritious meals whether you're home or not.
3. Play Time Any Time –
PlayDate
Work can keep us pretty busy, and our pets are often left home alone for hours at a time. We always mean to play with them more, but the pace of our modern world can prevent that.
Enter PlayDate, an app and smart ball combination that allows you to interact with your pet regardless of where you are.
The durable, pet-safe ball was designed with rambunctious bouts of fetch or pounce in mind and has a wireless charging dock so it can keep up with even the most energetic of friends. It sports a built-in microphone and wide-angle camera, and is iOS- and Android-compatible.
Ever wonder what your pet is thinking? You're not alone. Now you can give your dog, cat, or bird their own voice with the G.O.A.T. (Greatest of All Time) Bluetooth speaker.
While the speaker/app combination doesn't read your pet's mind, you can pick a voice and accent, allowing your pet to "talk." You can even record your own messages through the app, stream music, take selfies, and track important dates.
5. Your Best Friend's Best Friend –
PETBOT
If PlayDate isn't enough, you might consider PETBOT.
Your entire family can interact with Fluffy, Fido, or Polly wherever you have an internet connection. This adorable little robot has rugged wheels, dispenses treats, takes pictures and video, has two-way audio, and even shoots lasers. (We're not kidding about the lasers.)
As the holidays approach, keep your feathered, scaled, or furry family in mind and keep their stress levels low. Treat them right—with tech!