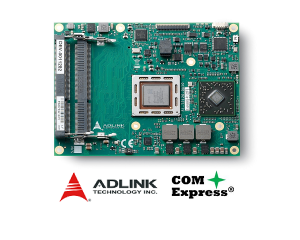 ADLINK Technology, a leading global provider of cloud-based services, intelligent gateways, and embedded building blocks for edge devices that enable the Internet of Things (IoT), today introduced the Express-BE, a COM Express™ Basic Size Type 6 computer-on-module based on the 2nd generation AMD Embedded R-Series APU (Accelerated Processing Unit, which combines the CPU & GPU on a single System-on-Chip, or SOC) with A77E FCH, delivering power efficiency and high definition visuals to high-performance medical imaging applications.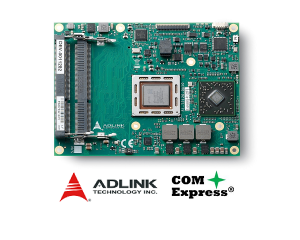 The Express-BE with AMD R-Series APU supports up to four independent displays—at mid-power range (17W~37W) and with resolutions of up to 4k x 2k @ 30 Hz—from a single system driving multiple screens without the need for a discrete graphics card. AMD Radeon™ HD 7000G Series graphics integrated into the AMD R-Series APU provide parallel processing support through OpenCL™ and DirectCompute, enabling the GPU to be programmed to assist in tasks normally reserved for the CPU. Medical applications that benefit from this improved visual output and graphics processing include ultrasound, X-ray/CT scanning, endoscopy and advanced 3D visualization for chair-side dental assistance devices—imaging applications that depend on highly accurate visual data in order to make precise diagnoses for proper patient treatment and recovery.
Graphics outputs for the Express-BE include dual-channel 18/24-bit LVDS and 3x DDI ports supporting HDMI/DVI/DisplayPort. In addition to the onboard integrated graphics, a multiplexed PCI Express® x16 graphics bus is available for discrete graphics expansion. The Express-BE also features dual stacked SODIMM sockets for up to 16 GB non-ECC type DDR3L memory at 1600/1333 MHz, a single onboard Gigabit Ethernet port, 4x USB 3.0 ports and 4x USB 2.0 ports, and 4x SATA 6 Gb/s ports. The module's AMD R-Series APU adds a hardware video compression engine for efficient encoding and fast video conversion.
The Express-BE is equipped with ADLINK's Smart Embedded Management Agent (SEMA) to provide access to detailed system activities at the device level, including temperature, voltage, power consumption and other key information, and allows operators to identify inefficiencies and malfunctions in real-time, preventing failures and minimizing downtime. ADLINK's SEMA-equipped devices connect seamlessly to our SEMA Cloud platform to enable remote monitoring, autonomous status analysis, custom data collection, and initiation of appropriate actions. All collected data, including sensor measurements and management commands, are available from any place, at any time via encrypted data connection.
"While the advanced graphics performance of the Express-BE can be appreciated in industries such as digital signage and gaming, in medical is where the low power reliability plus high definition visuals make the most critical impact," explained Henk van Bremen, director of ADLINK's Module Computing Product Segment. "The long product life of the module also aligns with requirements for embedded medical applications."
"The AMD Embedded R-Series APU is the ideal solution for ADLINK Express-BE, delivering outstanding compute and graphics at impressive performance-per-watt," said Kamal Khouri, director of marketing, AMD Embedded Solutions. "With ADLINK, AMD Embedded Solutions is proud to play a key role in bringing power-efficient and high-performance medical imaging applications to market that enable high definition visualization."
The Express-BE is designed for customers with high-performance processing and high definition graphics requirements that want to outsource the custom core logic of their systems for reduced development time. A complete range of COM Express engineering test tools accompany the Express-BE to expedite application development. These tools include the COM Express Type 6 starter kit, which allows customers to proceed with carrier board design and software verification simultaneously; PCIe x16-to-two-x8 adapter card; and the DB40 debug module. A customized BIOS service is available, as well as ADLINK's carrier board design service that provides a quick and cost-effective alternative to full custom development by the manufacturer.