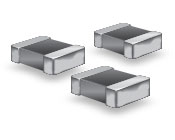 Bourns Announces New Series of Thick Film High Voltage Chip Resistors for High Voltage and Consumer Electronics Applications
Bourns, Inc., a leading manufacturer and supplier of electronic components, today announced new high voltage thick film chip resistor devices optimized for high voltage and consumer electronics applications. The new Bourns® Model CHV series is available in five footprint options from 0603 (1608 Metric) up to 2512 (6432 Metric), and is designed to operate with much higher voltages of 200 V on the 0603 size and 3 kV on the 2512 size. These UL 1676 listed resistors are manufactured using a robust thick film element printed onto a ceramic substrate. The new family strengthens the company's existing broad line of surface mount chip resistors and complements its other circuit conditioning components including power inductors, rectifier diodes and Zener diodes.
"Bourns' next-generation chip resistor family is designed to support our customers' higher voltage, rugged design and varied footprint option needs," said Brian Ahearne, product line manager at Bourns, Inc. "Bourns is known as a pioneer in the development of thick film resistors, and this latest series leverages the company's extensive engineering, manufacturing and quality assurance experience."
Pricing and Availability
Bourns® CHV series of chip resistors are RoHS compliant* and available now. As a pricing reference, the Model CHV0603-FX is priced at $ 0.147 each in 5000 piece quantities. For more information, please see the Bourns® Chip Resistors products page.