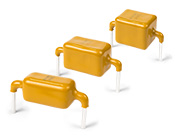 Bourns Significantly Expands High Voltage Power TVS Product Line with Nine New Devices
Bourns, Inc., a leading manufacturer and supplier of electronic components, announced a significant expansion of the company's high voltage Power Transient Voltage Suppressor (PTVS) product line. Offering superior bidirectional port protection from 170 volts to 430 volts, the nine new PTVS devices are designed to meet stringent IEC 61000-4-5 8/20 μs current surge requirements in a broad variety of AC line and high-power DC clamping applications such as those in exposed AC/DC power supplies in outdoor environments. An advantage for customers is that PTVS silicon-based technology delivers lower clamping voltage under surge, greater performance stability and increased reliability compared to the capabilities offered from typical competing MOV technology.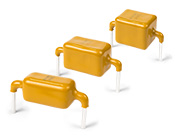 The new Bourns® PTVS products also offer an excellent surge response versus temperature; the typical maximum surge current at 150 °C exceeds 70 % of their rated value at 25 °C.
Product Features
"Avoiding damage to the power supply by limiting the peak surge voltage to an acceptable level without short-circuiting the line for an extended period of time is essential to minimize downtime in critical systems and should help avoid costly maintenance calls. Bourns® PTVS diodes are excellent solutions to meet these needs," said Ben Huang, product line manager at Bourns, Inc. "Our expanded PTVS offering provides the needed protection for AC/DC power supplies used in renewable energy, industrial, telecom and other applications that are exposed to hostile events such as power line surges and indirect lightning strikes."
Pricing and Availability
The nine new Bourns® PTVS products are RoHS compliant* and available now. As a pricing reference, the Bourns® Model PTVS6-430C-TH is priced at $ 72.60 each in 10 piece quantities. For more information, please see the Bourns® Power TVS products page.