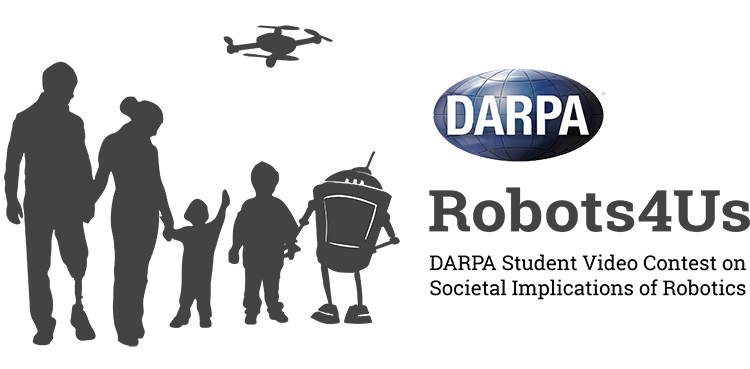 DARPA Launches Robots4Us Video Contest for High School Students
Winners Will Earn Opportunity to Attend DARPA Robotics Challenge, Discuss Future Implications of Robotics on Society
How will the growing use of robots change people's lives and make a difference for society? How do teens want robots to make a difference in the future? As ever more capable robots evolve from the realm of science fiction to real-world devices, these questions are becoming increasingly important. And who better to address them than members of the generation that may be the first to fully co-exist with robots in the future? Through its new Robots4Us student video contest, DARPA is asking high school students to address these issues creatively by producing short videos about the robotics-related possibilities they foresee and the kind of robot-assisted society in which they would like to live.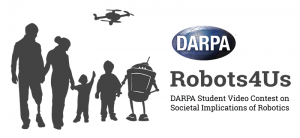 Winners of the student video contest will attend, as DARPA's guests, the DARPA Robotics Challenge (DRC) Finals, to be held in Pomona, Calif., June 5 and 6, 2015, at which teams of engineers from around the world will compete for $3 million in prize money as the robots they've created demonstrate their skills in the domain of disaster response. Student video contest winners will also get to participate in a special program in Pomona on June 7, which will bring together students and experts in technology and society to discuss the broader implications of a robotics-rich future.
"Today's high school students are tomorrow's technologists, policymakers, and robotics users. They are the people who will be most affected by the practical, ethical, and societal implications of the robotic technologies that are today being integrated into our homes, our businesses, and the military," said Dr. Arati Prabhakar, DARPA director. "Now is the time to get them engaged and invested by encouraging them to ask questions and provide their views."
U.S. high school students (grades 9-12) interested in participating in the contest are asked to submit a two- to three-minute video describing their vision for a future robot-assisted society.  Videos should consider both current and anticipated advances in robotics technologies, and the implications of these advances for individuals, workplaces, and communities, as well as for national security.
Five winners, along with one parent or guardian each, will receive a trip to attend the DRC Finals, where they will watch some of the world's most sophisticated robots respond to the kinds of challenges posed by natural and man-made disasters. Following the event, winners will take part in a special panel to discuss the ideas and views they featured in their videos. A "people's choice" winner also will be selected based on public voting on videos that DARPA will post on YouTube in mid-April.
Submitted videos will be judged on the basis of clarity, creativity, thoughtfulness, originality, and appeal of the submitter's vision of how robots could make a difference for society and the kind of robot-assisted society they would like to see—as well as the technical quality of the video. Videos by winners and other selected entrants will be featured on the DARPA website, YouTube channel, and other social media networks.
The contest begins on February 11, 2015, and entries from individuals or teams will be accepted through April 1, 2015.  For more information and detailed rules and requirements, visit www.theroboticschallenge.org/Robots4Us.