Handbag maker integrates NFC tags to prove authenticity
Mario&Donato, a luxury handbag manufacturer based in Spain, wanted to come up with a way of verifying that its handbags were the real deal — and not just some knock offs that can be bought discreetly on the street.
To do so, the company turned to printed-electronics company Thin Film Electronics ASA (Thinfilm) to integrate NFC SpeedTap tags that can be read by a smartphone an enable buyers to learn more about the brand and the product, as well as purchase handbags online.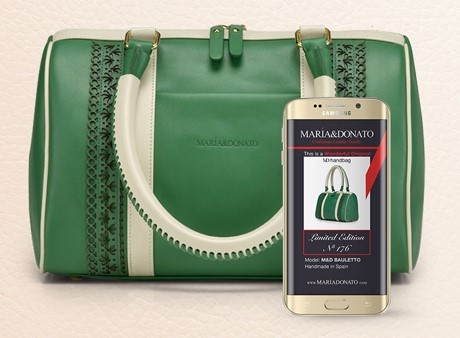 The two companies are incorporating the technology in order to combat counterfeiting and address growing concerns of fraud within the broader luxury goods market. T
"We consider each of our Maria&Donato handbags to be works of art and, in that regard, product authentication is an important part of the customer experience," said Javier Villaverde, Maria&Donato's product development director. "Thinfilm's SpeedTap technology is a highly secure solution that improves our actual anti-counterfeiting system, and gives our loyal customers the assurance and satisfaction they expect when purchasing one of our unique handbags."
The SpeedTap tags are thin, flexible labels that are printed within a package or label and can be read with the tap of an NFC-enabled smartphone. Each tag is uniquely identifiable and  almost impossible to replicate. Once tapped, the tag wirelessly communicates with the cloud to deliver authentication messaging, serial numbers, and other relevant content from the manufacturer.
"Luxury brands and other artisan manufacturers are often prime targets for counterfeiters, given the value and prestige associated with the products they produce," said Davor Sutija, Thinfilm's CEO. "Forward-thinking companies like Maria&Donato are taking action, and we are excited about the role SpeedTap will play in helping them address this important issue."
Maria&Donato will be demonstrating Thinfilm's SpeedTap anti-counterfeiting technology at Pure London, a UK-based fashion trade show at the end of July.