Last year, lying among trashed planes in an aircraft junkyard in Wisconsin, a historic piece of craft was discovered.
On June 5, 1944 a plane called the Douglas C-47, "That's all, Brother" departed from England leading Mission Albany, a formation of 432 aircraft that dropped more than 6,600 paratroopers behind enemy lines on the Cotentin Peninsula of Normandy – better known as the D-Day Invasion of WWII.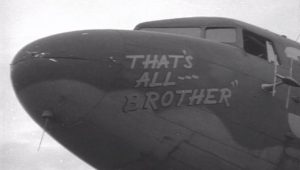 After the plane was discovered by the Commemorative Air Force (CAF), a foundation that aims to raise funds for aircraft museums, began the hunt to figure out what exactly this plane was. They stumbled upon a video taken on June 5, 1944 as "That's all, Brother" was taking off for Normandy.
Now the CAF wants to restore the aircraft.
The foundation launched a Kickstarter campaign to raise funds for the restoration. These funds will go directly toward acquiring the plane from Basler Turbo Conversion where the plane is currently being housed.  The original goal was a mere $75,000, which was greatly exceeded within 24 hours, so a new goal of $250,000 was set. Now that the new goal has been achieved as well, a final stretch goal of $310,000 has been set with only 5 days remaining on the campaign.
"A portion of the additional donations will go towards exterior paint, engine overhauls, installation of original seats, avionics and radio and radar equipment," according to CAF's website
The plane came equipped with some cool tech for the time. It was fitted with a primitive form of airborne radar to guide the formation to an accurate drop. The dome that encased the SCR-717 radar is located underneath the belly of the craft.
As part of its educational mission, CAF plans to turn "That's All, Brother" into a "flying classroom". The plane will travel throughout the country and allow visiting school children to become "paratroopers for a day." Guided by costumed reenactors, they will go through a series of exercises that use the same skills that the paratroopers had to use on D-Day:  teamwork, critical thinking, problem solving, and creativity," according to CAF's website.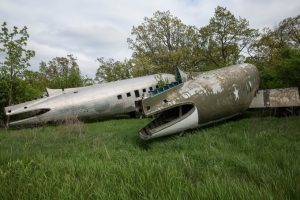 According to the CAF, the airplane was set to be cut apart and re-manufactured as a modern turbo-prop which would change the entire look of the iconic plane, lengthening its fuselage, replacing the original engines and gutting the cockpit to replace it with new equipment.
The aircraft will be on display in Dallas as one of the CAF's new national aviation museum attractions. The CAF also plans to fly the aircraft to Europe in the summer of 2019 to participate in the 75th anniversary of D-Day, the last opportunity for living veterans to attend a major commemoration event.
Learn more about the Commemorative Air Force Foundation or visit its Kickstarter campaign while time is still remaining.