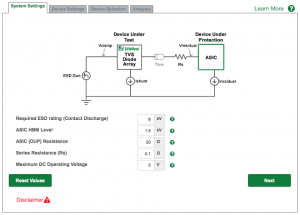 Littelfuse Adds ESD Suppression Selection Tool to its Popular Online iDesign™ Circuit Protection Selection Platform
Littelfuse, Inc., the global leader in circuit protection, has expanded the range of circuit protection devices included in the Littelfuse iDesign™ online simulation and product selection tool.
First introduced in April 2014, this robust web-based tool now includes an ESD selection tool that helps circuit designers choose from the company's growing line of TVS Diode Arrays (SPA® silicon protection arrays). These devices are designed to protect electronics from very fast and often damaging voltage transients, such as electrostatic discharge (ESD) and lightning-induced surges.
The iDesign platform, the first of its kind for circuit protection devices, was developed in response to requests from Littelfuse customers. It offers a fast, intuitive way to identify the best component for an application, find parts documentation, and order part samples for prototyping, all in one convenient package. The tools it provides walk users through the component selection process, quickly winnowing the available options based on the application parameters input.
Users of the ESD selection tool can enter parameters on the System Settings and Device Settings pages, then select from up to three devices to compare on the Device Selection page. An Analysis page allows running simulations that compare the system ESD levels of the selected devices, quickly identifying which one can offer the most robust performance for the application, as well as each device's "best case" performance.
Chad Marak, the director of semiconductor business development at Littelfuse, said, "Selecting the right ESD protection components and verifying their performance used to be an expensive, time-consuming, and often incomplete process because the protection device was not considered in relation to the device it was protecting. The new ESD tool eliminates searching through datasheets for parametric information or incompatible simulation files because it can access our TVS diode array product database, perform the calculations, and simulate devices' performance automatically. Essentially, it lets the circuit designer to do a 'dry run' on a device's ESD performance without building a test board first."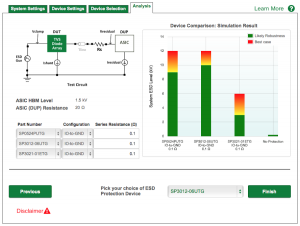 Jeff Dunnihoo of Pragma Design explains, "The Pesto™ ESD simulation models created for iDesign are from independent measurements following the ESD Industry Council's proven SEED (System Efficient ESD Design) methodology. Rather than being extracted from Littelfuse design parameters, these models are based on actual samples of Littelfuse devices using measurements by Barth Electronics, an industry leader in precision ESD measurements. This turns a tedious and expensive up-front analysis into a simple, re-usable tool that can help design, procurement and sustaining engineering teams make a confident selection."
Example of iDesign Online Simulation and Product Selection Tool Results
Marak continued, "The user is prompted by iDesign for their system parameters and design goals to guide them through the SEED simulation process. The Summary page reports the user input against the overall system performance with the selected protection devices, provides pricing and availability information, and allows downloading datasheets and ordering sample devices. The Design Manager toolbar makes it simple to create, save, and re-load their selections—even share them with others on their design team."
Circuit designers can register to create a free online account at iDesign Login to access the platform. The iDesign platform's flexibility enables Littelfuse to incorporate additional circuit protection devices in the future, so users will always be designing with the latest technologies.