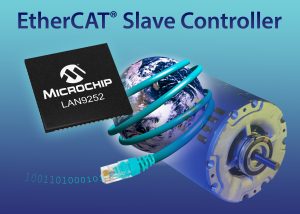 Microchip Introduces EtherCAT® Slave Controller With Integrated PHYs for Industrial Ethernet and Internet of Things Applications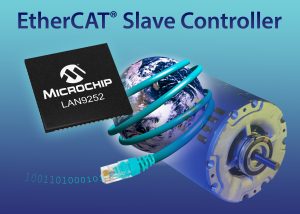 Microchip Technology Inc., a leading provider of microcontroller, mixed-signal, analog and Flash-IP solutions, today announced theLAN9252 stand-alone EtherCAT® slave controller with two 10/100 PHYs. This highly integrated device's dual 10/100 Ethernet transceivers support both fiber and copper, along with cable diagnostics capabilities. The LAN9252 supports traditional Host Bus and SPI/SQI™ communication, along with standalone digital I/O interfaces, providing system designers the flexibility to select from a wide range of microcontrollers when implementing the real-time EtherCAT communications standard. Additionally, the LAN9252 reduces system complexity and cost for developers using EtherCAT in factory-automation, process-control, motor/motion-control and Internet of Things (IoT) industrial-Ethernet applications.
To learn more about Microchip's EtherCAT controllers, visit:http://www.microchip.com/EtherCAT-041715a.
Technology research firm ARC Advisory Group is forecasting Ethernet's double-digit growth for use in industrial networks, partly fueled by applications in the emerging IoT segment. With EtherCAT technology's "on-the-fly" processing and use of standard Ethernet cabling, Microchip's LAN9252 slave controller offers the high level of integration and cost optimization required for current and future industrial applications.
"Microchip's history as a supplier supporting the very long product life cycles in the industrial market, combined with our leading-edge Ethernet devices, ensures customers have a reliable partner," said Mitch Obolsky, VP of Microchip's USB and Networking Group. "Adding EtherCAT technology, with its expanding market share, is a significant addition to our industry-leading Ethernet portfolio. The LAN9252 provides our customers with ease-of-use and configuration flexibility, taking communication and connectivity in embedded industrial designs to the next level."