Ship's engines optimized with virtual sensors
Vir2sense, an ETH spin-off, specializes in the development of virtual testbeds designed to optimize the performance of marine diesel engines. The young entrepreneurs, Christophe Barro and Panagiotis Kyrtatos, hope to sell their product to big shipping companies.
Unfortunately, they are also heavy polluters: their giant engines tend to burn heavy fuel oil with a high sulphur content. Not only do they damage the environment, but their extremely high fuel consumption also blows a hole in the budgets of shipping companies.
Fuel accounts up to 80% of the costs incurred over the life of a deep-sea vessel, compared with below 20% for a typical car model.
Tougher legislation on emissions is also making life more difficult for deep-sea vessels. Especially when sailing in coastal waters, the big cargo ships and cruise liners have to meet far stricter emission levels than in the past. Shipping companies are therefore keen to optimize their ship engines in a way that keeps fuel costs as low as possible, despite tougher emission controls.
Through their ETH spin-off Vir2sense, researchers Christophe Barro and Panagiotis Kyrtatos offer an innovative solution for optimizing marine engines. During their research over the past eight years, the two mechanical engineers have developed combustion and emission models that can be used as virtual sensors in a physical engine.
Their plan is to use these sensors in a commercial environment to simulate the performance of large ship engines. These models are then used for continuous re-tuning of the engines for specific emission limits and minimization of fuel consumption independently from current environmental and operating conditions.
This becomes increasingly important when taking into account different fuel qualities, which can change the engine combustion behavior and emissions significantly.
Depending on the price of fuel and transport volumes, ships can change their nominal speed in order to save fuel and reduce emissions. In some cases, ship owners swap out individual components to make the engine run more efficiently at lower speeds.
This task is generally performed mostly on the basis of empirical values. "Tuning an engine can be a little hit and miss; it can require significant time which cannot be used to transport goods and can result in high fuel and other operating costs – a model-based approach produces a far more efficient result", explains Barro.
With the help of their virtual testbed, Barro and Kyrtatos are able to calculate in advance on the computer how a motor will run with certain settings and which of its components need to be modified – and how – in order to achieve the necessary savings.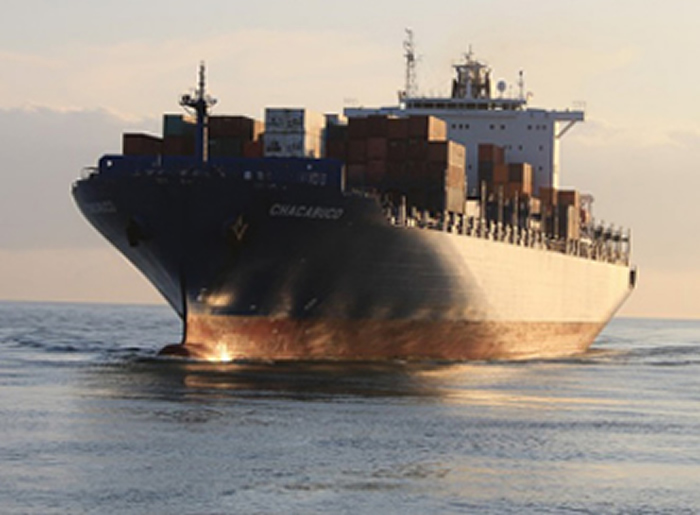 The researchers use virtual sensors to "measure" the engine's emissions, among other things. These sensors have a big advantage over their physical counterparts: they can be placed anywhere in the engine. Physical sensors, on the other hand, can only be placed in a limited number of positions.
"If you want to monitor the engine of a giant cargo ship, for example, you can't simply stick a sensor in the exhaust pipe in order to measure emissions", Barro stresses. The physical environment in the exhaust system of a marine engine is very harsh, and physical sensors have to be replaced sometimes after less than 100 hours of operation.
The average deep-sea vessel travels around 8,000 hours a year, however. On top of that, the sensors have to be recalibrated after a short period, which is time-consuming and expensive.
The virtual test environment and its sensors therefore not only save shipping companies the task of continuously recalibrating sensors, but also having to repeatedly replace them. This saves them a lot of money, because the simulation also produces a real drop in fuel consumption.
"Even a saving in the low single-digit %age range can make a big difference in the shipping business", Barro emphasizes.
This leaves him fairly confident that the estimated price of their product will not put off potential customers: "We reckon that one of our simulation units will cost between 20,000 and 30,000 Swiss francs per ship." Although that sounds like a lot of money, it's still a good investment, as the amount is recouped in savings within a year.
There is huge potential: the world's biggest shipping companies together own more than 4,000 ships, and another 1,500-2,500 vessels are launched every year. The five biggest shipping companies each own around 400 ships.
The researchers want to concentrate on commercial shipping because the size of the industry is more manageable than, say, the automobile sector – even though virtual sensors can be used in automotive applications as well.
"In principle we can apply our system to all engines in any sector, in other words for cars, construction machinery or trucks", says Kyrtatos. However, it would be more difficult to break into the automobile industry. "Many car makers prefer to solve the optimization problem themselves using their own R&D departments", he adds.
Another factor to consider is that the firms who make marine diesel engines are much smaller than the big carmakers, but the range of models can be far more diversified.
Barro and Kyrtatos are currently still working as senior assistants and lecturers at the Aerothermochemistry and Combustion Systems Laboratory (LAV) under Professor Konstantinos Boulouchos. In the future they plan to still collaborate closely with the group for the development of new products directed towards the automotive, heavy duty and marine markets.
Vir2sense is one of the newest members of the ETH family of spin-offs. Barro studied mechanical engineering at ETH, then went on to become a doctoral student and postdoc. He is now a senior assistant at the LAV, where he is head of a research group.
Kyrtatos also completed his doctorate at ETH Zurich and currently leads a research group in the same laboratory. The two engineers got to know each other while studying for their PhDs and had the idea of starting a business together. The company was legally founded in March 2016, making it one of the most recent recipients of the official label "ETH Spin-off".
More information: ETH Zurich