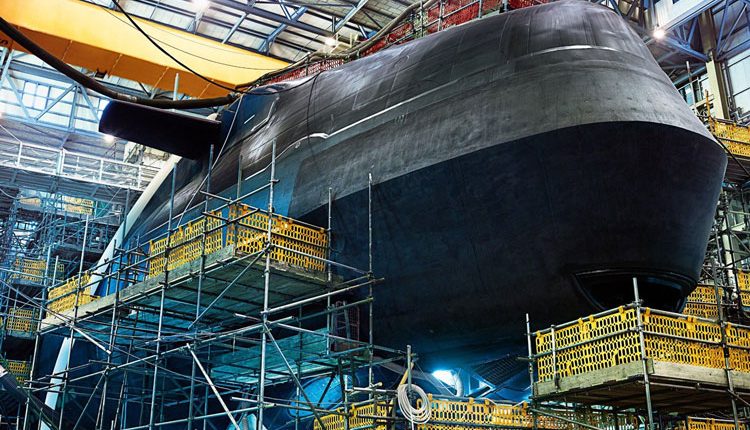 Stuart Godden, the Director of Engineering for BAE Systems' submarines division in Cumbria, in a Barrow-in-Furness shipyard, narrated a slide show and compared the UK's latest submarines program – the Astute class – to Nasa's Space Shuttle program. "They've got a crew of five to seven, we've got 97 or so," he said. "They go out for a couple of weeks, we go out for 90 days.They typically went on 100 missions, we've got 25 years to operate.
"In terms of environment, they're 200 miles up, we're hundreds of meters beneath the sea. It's very benign up there, because there's no pressure or corrosion, whereas it's very high pressure and very corrosive under the sea."
Eventually, he conceded some ground to the Shuttle program: "Albeit, in getting there they have a very explosive force as they transit into outer space – clearly they're a hell of a lot faster than we are."
Godden's mission is to communicate the scale of what's been achieved with the delivery of Astute: the sub isn't a more complicated ship, it's a completely different realm of engineering. It will operate beneath the sea for months on end, during which time it may be attacked. Throughout its lifetime it will have a nuclear reactor on-board alongside missiles and close to 100 submariners.
Britain's submarines could previously remain at sea for a maximum of 15 years before refueling. The new iteration will last for a quarter century – the only reason it will need to resurface is to take on food. But does Godden really think Astute was harder to build than a Space Shuttle? "They are two of the most challenging projects the world has ever undertaken," he said. "It's hard to be objective. All I'm trying to say is it's at least as complex from my perspective."
The Astute is the quietest submarine in the world. Almost every mission it will take part in will require stealth: eavesdropping in hostile waters, covertly delivering special forces (while submerged), tracking enemy vessels and aircraft, hunting enemy vessels and quietly hiding while waiting to launch its Tomahawk missiles (while submerged) at an onshore target that might be more than 1,500 kilometers away.
Although there are no definite dates, the seven Astute-class submarines are likely to be the Royal Navy's only attack submersibles in the next decade, taking over from the Swiftsure class (all decommissioned) and Trafalgar class (decommissioned within ten years). The only other submarines the Royal Navy will operate are the four nuclear-powered Vanguard-class boats, which currently carry Britain's nuclear weapons, and which will be superseded by the Successor class if the Government gives the go-ahead in 2016. Thirteen-hundred people are already working on Successor at Barrow's shipyard.