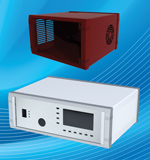 UNIMET-PLUS Instrument Enclosures Now Available In Custom Sizes
OKW's metal enclosures division METCASE has increased the customization options available for its UNIMET-PLUS electronic instrument enclosures.
UNIMET-PLUS is now available in custom sizes. Other new customisation services including digital printing of panels and complete enclosures – the lower set-up costs are ideal for smaller volumes.
UNIMET-PLUS is an advanced range of aluminum enclosures for desktop and portable electronics such as medical and wellness equipment, test and measurement, industrial controllers, peripherals, interfaces and laboratory instrumentation.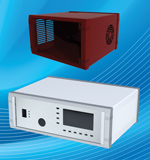 Cases can be specified with or without a bail arm. This versatile handle doubles as a desk stand. Its push button system enables it to be indexed in 30° increments.
UNIMET-PLUS features four snap-in polyamide guide rails so PCBs can slide into place quickly and easily – speeding up installation times.
The rear panel is recessed to protect connectors. Removing it enables the case lid to slide off, giving plenty of access to the components.
UNIMET-PLUS is available in six standard sizes (from 1.97″ x 9.05″ x 7.60″ to 5.90″ x 13.78″ x 10.35″) – plus custom sizes.
Standard colors are Window Gray (RAL 7040) for the front and rear bezels and Light Gray (RAL 7035) for the case body. Custom colors are available on request.
Prices start at $85.18. Accessories include a front panel kit, additional PCB guides (four are included as standard), molded feet, tilt feet and PCB mounting pillars.
UNIMET-PLUS can be customized with CNC milling, drilling, punching and folding; digital and silk-screen printing of legends and logos, plus the manufacture of special internal components.