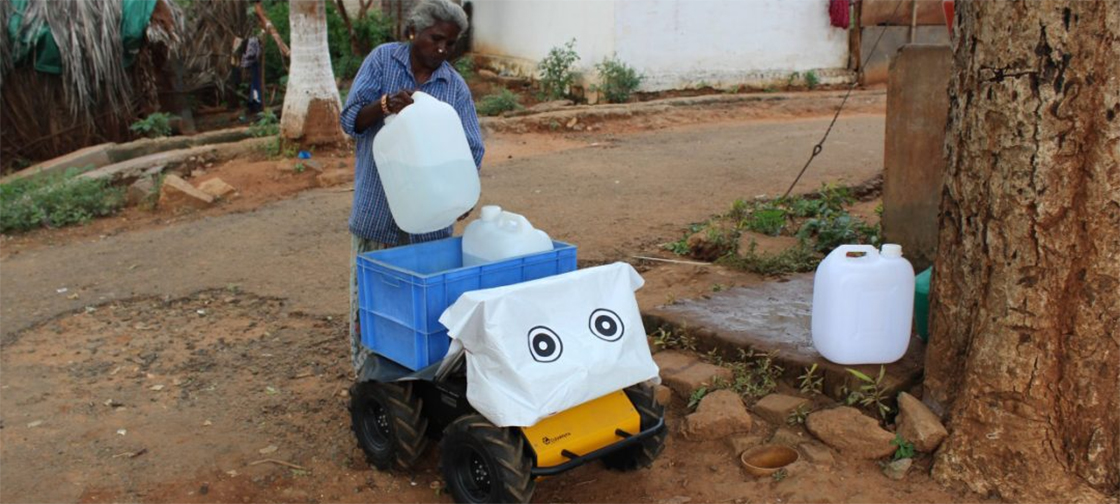 Clearpath Robotics
One of the most demanding challenges for those living in the developing world, particularly those living in rural locations, is getting regular access to clean drinking water.
Following a joint partnership between the University of Glasgow and Amrita University in India, that challenge is being made easier via the use of a water delivery robot.
The remote controlled Husky robot, developed by Clearpath Robotics, is currently on trial in Ayyampathy in southern India where it is transporting water to the people who need it, while also communicating to villagers in their local language.
While many of us are immersed in technology on a daily basis, and certainly take something as regular as fresh drinking water for granted, the truth is that most of the world's population live in rural areas, especially in developing countries, so technology can play a vital role in changing lives for the better.
More than half of India's population has no access to tap water in their homes. Instead, they spend a great deal of time and energy every day carrying water from wells, a task which is overwhelmingly performed by women.
The robot can carry three 20lt bottles at a time, and communicates using a synthetic male voice. The robot's motion and speech were both controlled by the researchers via remote control.
The researchers were keen to see not just how much labor could be saved by offering villagers the use of the Husky, but also how people who had never seen a robot for themselves before would interact with it.
Akshay Nagarajan from Amrita University said: "Another thing that is unique about this study is it is making an effort to understand the challenges of introducing robotic solutions in a real life rural setting. This is an essential step towards informing design decisions for robotic products that seek to address the populations at the bottom of the economic pyramid."
Dr Amol Deshmukh, a research associate in the School of Computing Science who worked on the project added: "Most of the research carried out to date on human-robot interactions are carried out in lab environments in urban settings, with people who have developed some conception of what robots are and how they work by seeing depictions of them in TV and film.
"We wanted to see how people from considerably more remote rural populations would view robots, which have a lot of labour-saving potential. Robot helpers are also ideally-placed to help those population reach the UN's sustainable development goals of bridging the digital divide and opening up beneficial technology to people around the world, so it's vital to explore how they are likely to be perceived in the developing world.
"It's clear that labor saving devices like these bring real benefits to remote communities, and we're keen to do more work in the future with our partners in India to explore these issues in more depth."