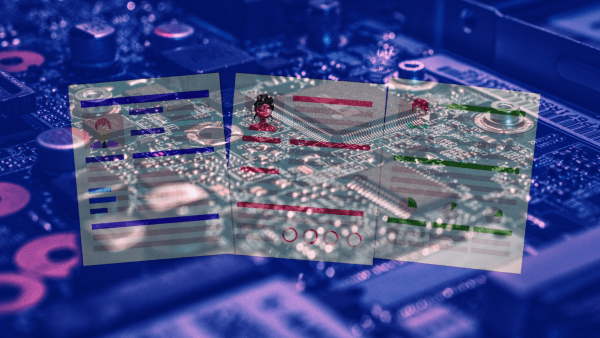 10 Resume Tips for Engineers
Graduating with an engineering degree is a big achievement that you should proud of, but a degree alone is not enough to land you your first "real" job. You're going to need a killer resume to go along with it — one that highlights your best qualities and achievements and puts you at the top of the list.
Let's explore ten of the most valuable resume tips that will help you kick-start your engineering career.
Demonstrate Your Attention to Detail
Attention to detail is an important trait for any engineer. After all, one small miscalculation can result in big problems. This is why you must ensure that your resume reflects this consideration and contains zero spelling and grammar mistakes. This may sound obvious but you can't imagine how many people do not take the time to double check their resume for such errors.
2. Add Research-Based Work to Your Resume
If you have been part of a research paper relevant to the field, regardless of what your role was, make sure to include it in your resume. And of course, make it sound more professional than it may have been. For example, if you were simply collecting data and adding it to an Excel spreadsheet, you can still write that you were involved in Data Analytics or Data Science projects. It's true, even if it sounds fancier than it really was.
3. Make It Relevant to Engineering
Crafting your resume so that it is relevant to engineering is very important since ultimately, that is the job type you are pursuing. For example, even if you were a champion ballet dancer or the best trombone player in your high school you should refrain from adding it in your resume as it will most likely do you more harm than good. Plus it will take up space on your resume that can be used for useful information.  You should add skills that are important in an engineer such as problem-solving skills, creativity, ability to work in a team and good analytical skills. Also, add any relevant work experience that you have had and what you gained and learned from those jobs plus what positive impact you had on that company while you were there.
4. Add a summary 
A resume summary is a short paragraph at the start of a resume concisely tells the employer everything that they'll see in your entire resume but in one swift paragraph. The reason we include a summary is to hook our readers. Hiring managers are moving quickly. They don't always have time to read entire resumes. They only want to spend time where it's worth it. Your summary will express whether or not it is worth it to continue reading.
Add the following to your summary: 
-How many years of experience you have had
– Positive impacts you've had on companies where you had internships (backed by stats) and how. For example, "I saved the company $250,000 by suggesting using an equally durable material that costs less"
– How and why you want to contribute to the company you are applying to work at
– Your skills. For example, "Skilled in data analytics, assessing project requirements and budgeting and planning"
5. Bullet Points
Bullet Points are your friend. They are much more effective than writing long paragraphs as they get straight to the point and highlight each point as a separate, and important, entity. This makes it easier for the reader to gather more information without boring the hiring manager. Instead of writing long sentences such as "I worked at Tesla from June to September 2018 as an engineering intern," you would provide a bullet point that says "3-month engineering internship at Tesla". It is much easier to read, much clearer and provides your potential employer with the same information.
6. Add Data and Statistics
Data and statistics transform your resume into something more interesting and impressive. For example, instead of saying "I worked at Imaginary Engineering Firm where I helped save money for the company," you should write something like this, "I worked at Imaginary Engineering Firm where I helped cut costs by 15% by implementing more functions in the data analytics processes and systems". You can see how small the change is but how much more impactful it is.
7. Customize Your Resume When Needed
For many budding engineers, it might take hundreds of resume applications before finally landing a job.  In order to increase your chances, consider tweaking your resume to be more appropriate for different jobs and different companies. This means you'll need to do some background research to understand the company culture in order to make yourself as appealing as possible. For example, if you are applying for a job at a company that develops aircraft, you can emphasize your skills and passion toward basic aerodynamics theory. Make sure you're genuine though because if you are invited for an interview and are caught lying on your resume you would have tarnished your chances of getting that engineering job. It is better to be honest than try to bluff your way to getting a job, after all, if you are not as passionate about something as you pretend to be on your resume it is likely that you will not enjoy your job as much.
8. Make Yourself Stand Out
Make your resume look visually presentable by using tools such as EnhanceCV that allow you to create professional looking resumes in minutes without any required experience in graphic design.  Make yourself look presentable by showcasing your unique training, skills, and achievements.
9. Don't Tell. Show.
This is a common blunder. Fresh-out-of-university students, even adults who have been on the job for decades, tend to say they are good at things. For example, don't say you are a good leader if you don't have any proof of you being a leader at something. Were you the head of your class or additional organization? State that instead.  Anyone can claim they are good at something, but if you want to stand out and get the job you need to show that you are actually good at those things.
10. Update Your Resume at Least Every Six Months
Your experiences and knowledge will evolve as you advance in your career. We recommended taking some time at least once every six months to update your resume with any new skills you've learned, achievements you are proud of and events that 'show but don't tell' that you are good at something.  When doing this, make sure that you are not just adding more and more information that creates a long wordy resume, instead, you should replace anything less impressive or less relevant appropriate with your new impressive experiences and achievements.
In addition to simply creating a stellar resume, it's important to consider the following:
Connections are sometimes more important than your grades. Many employers don't even ask what your GPA was, especially if you meet the minimum requirement and have the background experience and skills needed. These days it's always about who you know. Try contacting your school's career services or engineering department and see if they can connect you with an alumnus who is hiring or has an open internship available.
Tap into the power of LinkedIn. You can access a lot of career guidance by reaching out to people and engaging with them on this platform. Perhaps there's an alumnus you come across on LinkedIn. Reach out to him or her and discuss what works. If you make the effort and ask for help, it's a plus.
Just get a job. Any (related) job. Chances are, you won't spend a lifetime in your first job. It's important to gain the experience and soak up everything you can while you're there. If you can't land a full-time job right after graduating, there is no shame of applying to an internship instead. Chances are you'll be ahead of a bunch of the applicants since most people apply for internships while still in school, so you'll be competing with people without a degree. Who knows, you may even get an offer for a full-time position after working at your internship for a couple of months.