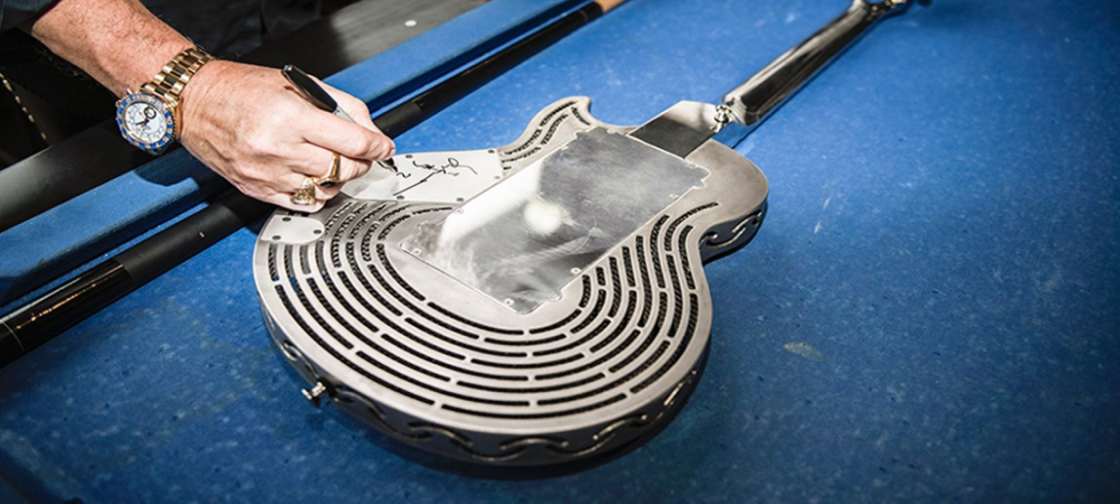 A Smash-Proof 3D-Printed Guitar Even Rock Stars Can't Break
By Ruth Seeley
Continuing a tradition that began when he was very young, Swedish-born guitar virtuoso Yngwie Malmsteen has been smashing his old guitars onstage and at home on birthdays and holidays whenever he got an upgrade.
When Sandvik invested $25 million in a specialist additive metal production plant in Sweden in 2018,  the company decided to test its cutting-edge technologies by building the world's first 3D-printed, all-metal, smash-proof guitar, Malmsteen was the natural choice to test proof of concept.
Gathering experts from across the company, Sandvik wanted to make something that is both highly precise and amazingly durable.  Its engineers teamed with renowned guitar designer Andy Holt, of Drewman Guitars, to match Malmsteen's exacting musical standards and his lightning-fast playing style.
For the guitar's 3D-printed body, Sandvik drew on its metal powder and additive manufacturing expertise and used laser to trace a design in beds of fine titanium powder, fusing layers of material one on top of the other. They also used car manufacturing crash-test simulations to determine impact forces so the guitar would be smash-proof.
The guitar's neck and fretboard were machined from a solid block of recycled stainless steel. To strengthen the fret and neck as they extended into the guitar's body a new, super-light lattice structure was sandwiched between the guitar's neck and fretboard.
After an unsuccessful smash attempt in Miami, the guitar had only suffered a few scratch marks. "This guitar is a beast! Sandvik is obviously on top of their game. They put the work in, they do their hours, I can relate to that," Malmsteen said. "The result is amazing. I gave everything I had, but it was impossible to smash."
The guitar is being auctioned to raise money for Engineers Without Borders Sweden. To bid before May 12, 2019, click here.
Source:  Sandvik