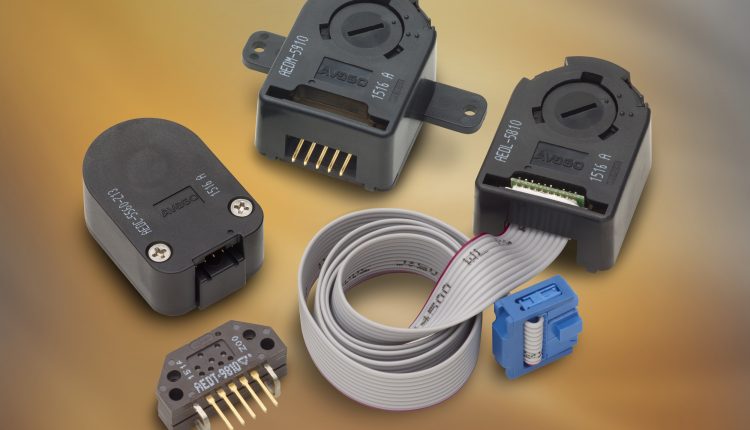 AEDT-981x Avago High Resolution Motion Feedback Encoders
Avago Technologies announced a new series of high resolution 3-channel optical incremental encoder modules, the AEDT-981x, designed to enable a new generation of robust, high precision motion control applications including DC servo motors, linear and rotary actuators, factory automation equipment, 3D printers, robotics and drones.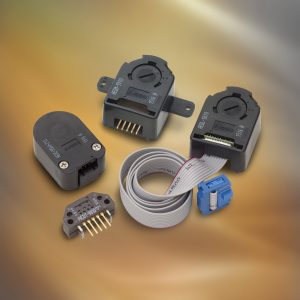 Expanding upon Avago's market-proven HEDS-914x module series, the new AEDT-981x module series features a built-in interpolator supporting a wide range of encoding resolution from 1,000 to 5,000 counts per revolution (CPR) using a codewheel of 11mm optical radius. The new module series is industrial grade with operating temperature from -40 °C to +115 °C. Compared to competitive solutions on the market, the AEDT-981x is 70% lower in supply current minimizing encoder power consumption and has a wide spatial play tolerance and codewheel gap, providing ease of motor shaft alignment and enhancing photo detector signal integrity.
Product Highlights
• Dual Channel Quadrature Outputs and One Index Digital Output
• Encoding Resolution: 1,000, 1,024, 1,250, 2,000, 2,048, 2,500, 4,000, 4,096, and 5,000 CPR
• Operating Temperature: -40 °C to +115 °C
• Low Current Consumption: 20mA (typical ICC)
• Spatial Play Tolerance of 0.4 mm
• Codewheel Gap Range of +/-0.15 mm
• Fully Compatible with Avago HEDS-914x Module Series
• 4kV HBM ESD Immunity (JESD22-A114D)
• Small Form Factor: 26.67 mm (L) x 20.8 mm (W) x 10.16 mm (H)
"With recent advances in automation, robotics and control systems, we have witnessed a dramatic increase in the number of new applications that need higher encoding resolution and lower power consumption. Even customers of our legacy HEDS-914x products have demanded a more robust, higher performance motion encoder solution to fulfill their new application requirements," said Hassan Hussain, vice president and general manager of the Motion Control Product Division (MCPD) at Avago. "The AEDT-981x is not only an integrated response to the new requirements of our customers, but also this new series of encoders has been provisioned to support the next generation of high precision motion control applications."
The encoder is available in a standalone module unit like the AEDT-981x or in three pre-assembled housed module kits. The AEDM-5xxx is a kit with patented snap on cover, the AEDC-5xxx is a kit with connector latch, and the AEDL-5xxx is a kit with integrated differential line driver IC supporting RS-422 outputs.