Bosch to announce Telematics eCall Plug at CES 2018
At the 2018 international CES in Las Vegas, USA, Bosch Connected Devices and Solutions will announce the Telematics eCall Plug (TEP), a retrofit plug-in sensor device. It delivers precise event data such as driving behavior and crash detection for telematics, fleet management and insurance applications. The smart sensor device easily plugs into a standard 12V car cigarette lighter socket.
Data from the TEP enables innovative usage-based business models, e.g. for insurance purposes, however, it is also setup to be adopted by fleet operators and automobile clubs. The device's eCall function registers car crash severity and can help to save lives by enabling faster emergency response times.
Data-based insurance
The TEP intelligently utilizes its built-in sensors and microcontroller to reliably and accurately track driving behavior parameters such as acceleration, braking and cornering forces, then transmits this data to the driver's smartphone via Bluetooth. Bosch's long-term expertise in crash detection and airbag controllers guarantees high quality data, while the cost-efficiency of this new device makes it a very viable alternative to standard 'black box' or OBD-dongle solutions.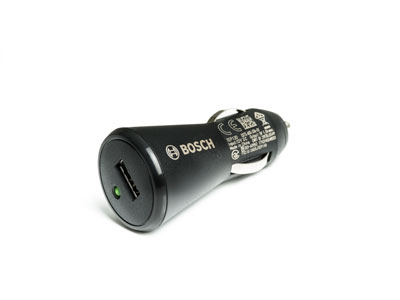 The collected data can be used to help improve safety by identifying aggressive driving behavior and enables more personalized behavior-based insurance, by rewarding safe drivers with discounts on premiums. The data can also help insurers to identify and reduce fraudulent claims. The device can build closer customer relationships through gamification and more frequent customer contact.
Fleet operators can use the acquired data for monitoring driving behavior.
Improving automotive safety
The TEP's eCall function uses acceleration sensors and intelligent embedded algorithms to detect car accident events and their severity. It communicates with the driver's smartphone via Bluetooth. Accident alerts are sent to a call center via smartphone.
The call center can subsequently automatically and quickly contact the emergency response services – speeding up response times, potentially saving lives. In less extreme situations, the call center can trigger roadside assistance.
Flexible and easy to implement
The TEP has three configurations: the eCall function only, the driving behavior data only, or both functions. It neatly plugs into the standard 12VDC car outlet, making its retrofit installation quick and easy in any type of car. There is no connection to the car's IT infrastructure, where any risk of hacking is eliminated.
Bosch also offers a Software Development Kit (SDK) for the TEP, which contains everything a Service Partner needs for the development of a retrofit automotive telematics solution. The SDK supports both Android and iOS operating systems, and makes communications between a smartphone app and the TEP straightforward, utilizing the benefits of the Bluetooth Low Energy (BTLE) platform.