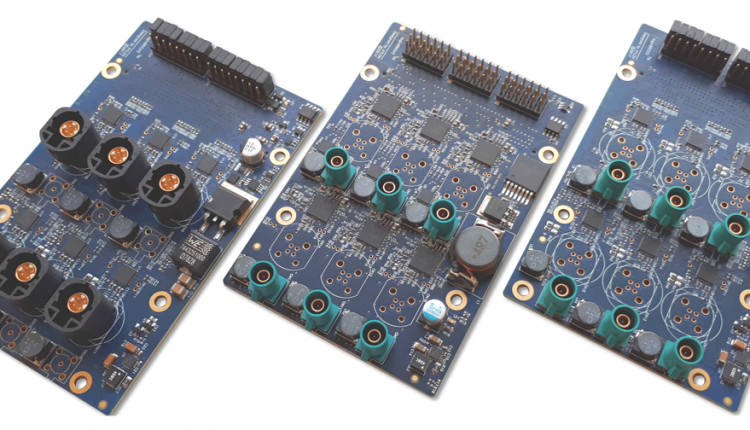 FMC expansion boards support next-gen automotive high speed serial links
Xylon has launched three new FMC expansion boards that support the most popular Texas Instruments (TI) FPD-Link III and Maxim Integrated Products next-gen GMSL automotive high speed serial links for in-vehicle video, audio, and communication data streams transfers.
The new Xylon's FMC boards are primarily designed to enable quick prototyping and evaluation of automotive multi-camera Advanced Driver Assistance System (ADAS) and Autonomous Driving (AD) applications, but can be also used in a variety of different non-automotive camera applications. All of these FMC boards enable an easy interfacing of up to six video cameras to Xilinx FPGA, SoC, and MPSoC devices:
logiFMC-FPD3-934 6-Channel FPD-Link III expansion board implements TI's DS90UB934-Q1 deserializers that pair with the DS90UB913A/933-Q1 serializers. The board supports camera sensors up to 12b at 100MHz.
logiFMC-GMSL-MAX96706 6-Channel GMSL expansion board implements Maxim's MAX96706 deserializers that pair with the MAX96705 serializers. The board supports camera sensors with the parallel-clock maximum of 116MHz for 12-bit linear, or combined HDR data types.
logiFMC-GMSL 6-Channel expansion board implements the next-gen of Maxim's deserializers that support multiple video resolutions.
Xylon's FPGA Mezzanine Cards (FMC) expansion boards are compliant with the VITA 57.1 FMC standard, and can be used with the high pin count (HPC) as well as the Low Pin Count (LPC) connectors. They can be used with the existing Xilinx programmable device based evaluation kits with the FMC connector, such as the Xilinx Zynq UltraScale+ MPSoC ZCU102 Evaluation Kit, Zynq-7,000 All Programmable SoC ZC706 Evaluation Kit, or other Xilinx and third-party evaluation boards.
On request, all high speed links automotive FMC boards can be assembled either with the FAKRA connectors for a coax cable from Rosenberger Hochfrequenztechnik, or with the RosenbergerHSD High Speed Data connectors for Shielded Twisted Pair (STP) cable.