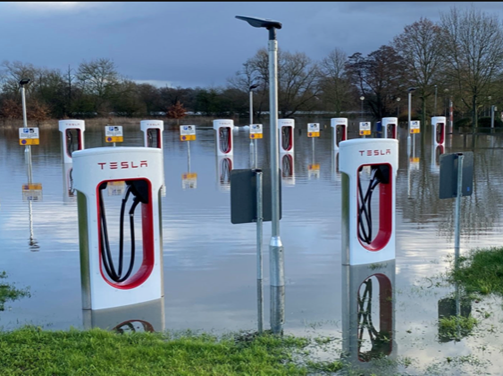 If Charging Stations are Under Water, Will EV Adoption Continue?
Charging stations could be the Achilles' heel that stymies the large-scale adoption of electric vehicles. A recent study is basing its conclusions on unanticipated events surrounding the electric vehicle (EV) charging infrastructure.
The large-scale adoption of EVs is a crucial pillar of efforts to build a carbon-neutral economy, reduce urban pollution and roll back the impact of climate change. While policymakers concentrated incentives on encouraging car owners to buy electric vehicles, they seem to have slipped regarding creating an adequate and resilient service network to support the EVs.
For the study led by Assistant Professor Jimmy Peng of the National University of Singapore's College of Design and Engineering, researchers found that shocks to parts of an EV charging network could derail efforts at increasing adoption by undermining public confidence in the support infrastructure. They published their study in the journal Nature Communications.
Researchers focused their analysis on the impact of flooding on an EV charging infrastructure in an urban setting, using data gathered from charging stations in the Greater London area in the UK to examine its effects. Flood shocks are rapidly becoming a factor impacting the accessibility of charging stations, the research team said.
The team modeled the process to simulate what happens following flooding shocks to the charging network with increasing levels of EV ownership. The analysis showed that this stress on the network would get significantly worse as EV adoption rises, warning that unless policymakers took proactive steps to address it, it could become a significant deterrent to consumers switching to electric vehicles.
For policymakers looking to encourage the adoption of EVs, now is the time to consider whether the planned investment in charging infrastructure is adequate for the planned growth in EV ownership.