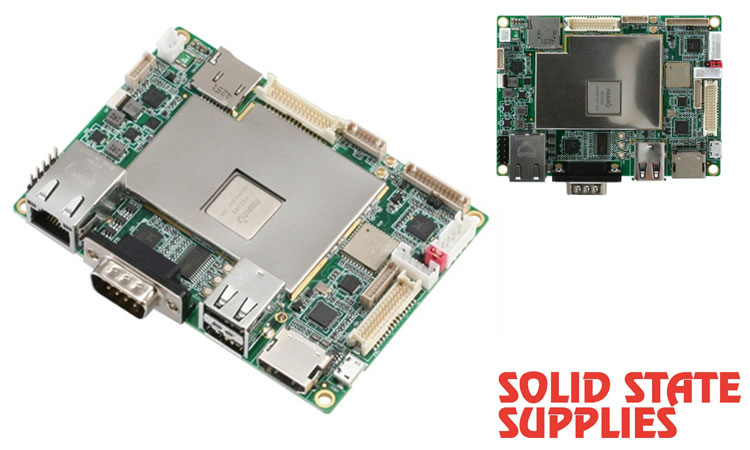 Lightweight Industrial Hardware Offers Superior Graphics Capabilities
Solid State Supplies now stocks the RICO-3288 Pico-ITX fan-less board from Aaeon, which is based on the Android operating system. Central to the board's elevated levels of performance is the 32-bit Rockchip RK3288 ARM Cortex-A17 quad-core processor which proves extremely efficient at multi-tasking when compared to dual-core devices.
Running at up to 1.6GHz, this IC has advanced graphics processing and video decode functionality (supporting 60fps 2160 pixel H.265 decoding). As well as 2GB of built-in DDR and 16GB eMMC resource, there is provision on the RICO-3288 board for additional 64GB Micro SD card memory.
Among the array of different I/Os incorporated on the standard board are HDMI 2.0 (enabling 3840×2160 pixel display output) and Gigabit Ethernet, as well as a Micro USB port (featuring USB On-the-Go), 3 standard USB 2.0 interfaces, plus an RS-232 interface and a combined RS-232/422/485 interface (for connecting with legacy infrastructure).
Board variants are available that deal with wireless communication aspects – 3G/LTE being facilitated through a full size Mini PCIe slot and nano-SIM holder, along with integrated WiFi/BT4.0 for local area networking.
This product is suited to incorporation with machine vision/manufacturing inspection equipment, point-of-sales units, digital signage, industrial HMIs, vending machines, test instrumentation and edge-to-cloud applications. In addition, a dedicated I/O connector for expansion via daughter cards with CANbus and GPS enables applications such as fleet management to be addressed.
Weighing just 0.4 kg, this board has a compact form factor (with dimensions of 100x72mm). Its operational temperature range spans from 0 to 60°C (with an extended version covering -20 to 70°C also available). To ensure functional longevity, it has a Mean Time Between Failures (MTBF) of 80,000 hours. It comes with CE (as well as FCC) certification. To accompany the Aaeon offering, Solid State Supplies has an extensive portfolio of display solutions (both bespoke and off-the-shelf) from its Ginsbury division.