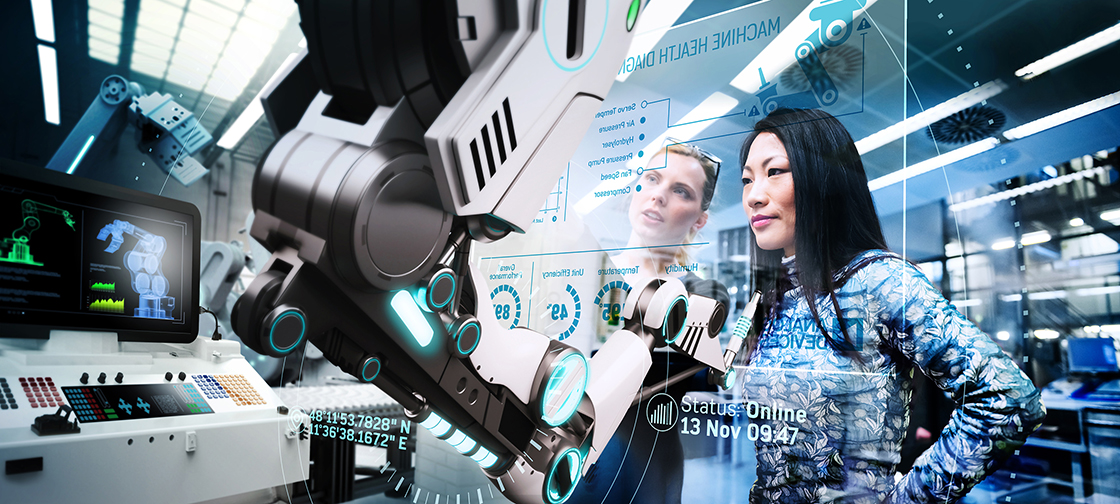 Analog Devices
electronica 2018 trade fair will see Analog Devices' (ADI) largest presence yet, as well as being the first show to feature the company's expanded range of technologies following the successful acquisition of Linear Technology. A broad range of demonstrations will showcase every aspect of the company's mission.
Demonstrations in the industrial space will show the solutions that ADI can offer at every point, from sensors and data collection, through signal processing, motion control algorithms and power regulation, to transmission of performance data to the cloud. The stand will showcase a range of complete system application demos and solutions that illustrate the capabilities of multiple ADI products and technologies.
For example, the perennial problem of isolated and accurate current measurement will be addressed with an innovative application of AMR (anisotropic magneto-resistive) sensors for completely contactless operation. By contrast, a robotics arm and a wind turbine model will showcase ADI capabilities in sensing mechanical parameters, data acquisition, security and analysis, and power control.
In transportation and automation applications, the ADI stand will feature solutions for infotainment such as developments in the Automotive Audio Bus (A2B) world, for sensing and feedback around the driver, and in the cabin; and for precision management of high-voltage battery packs for electric drive systems.
The integration of products of the former Linear Technology business has broadened Analog's offering in, among others, the power arena. The latest offerings in an established product line – Silent Switcher – will be joined by a 'hot topic' in the energy conversion space: bi-directional power flow and control. A demonstration will illustrate the ability to move power seamlessly and with minimal losses in sectors such as automotive dual-battery systems, energy storage and backup, and robotics. Increased efficiency for 48/54V power distribution systems in telecoms and data center racks will also be featured on the stand.
Sure to catch the eye of the electronica 2018 visitor, will be a demonstration centered on an electric guitar. The principle being shown is that of impedance measurement (vs. frequency) and is a technique that has application far beyond optimizing amplified music, to production test and other instrumentation areas where it will lead to a very significant reduction in costs.
The breadth of sensing technologies shown and deployed on the company's electronica 2018 stand will further emphasize Analog Devices' key strategic presence at the interface between the real, physical world and the digital one. In addition to strain gages and MEMS accelerometers/gyros in industrial and transportation settings, a highlight will be the company's industrial RADAR sensing capability, alongside the new xMR sensing technology that supersedes conventional optical angle sensing to solve a wide range of industrial measurement challenges. Also in this domain will be demonstrations centered on gas sensing, and on airborne aerosol characterization.
Reflecting the wide range of interests of those attending electronica 2018, the Analog Devices stand will provide a comprehensive showcase of its product lines, from the fundamental analog functions to the most complex systems, taking in extensive support software such as an 'assistant' that aids in configuring a measurement system. And, in another dimension, software to support 'edge-to-cloud' data handling, with the highest security.
The Analog Devices stand, # 111, in Hall C4, will be fully staffed by applications engineering specialists, ready to answer visitors' detailed queries. In keeping with electronica's status as the premier European semiconductor technology event, senior management personnel from ADI's divisions will also be on hand for high-level discussions.
Visitors will be able to plan their visit with the assistance of a dedicated event page here, which provides further details of the technologies and system-level application demonstrations and solutions on view. The site also gives an overview of panel discussions and presentations ADI will participate in with speakers.
Analog Devices is the principal sponsor of Automobilwoche's 'Talk from the Top' – a panel discussion that will take place on the opening day of the show, November 13th, 3 pm. The panel of senior executives representing both the automotive and electronics industry will include ADI's Director of Sales for Mobility & Transportation, Stefan Steyerl. Visitors will be able to see the discussion live in Hall C6, relayed to a screen in Hall B4, or as an internet live stream.