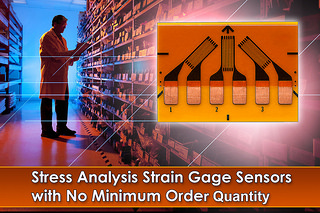 Micro-Measurements Strain Gages for Stress Analysis Now Available From Digi-Key
Micro-Measurements launched a new stocking program with its valued distributor Digi-Key Electronics, a global full-service provider of both prototype/design and production-quality electronic components for strain measurement. Digi-Key can now ship a wide selection of standard Micro-Measurements strain gages with no minimum order requirements, including most popular models used in critical circuits for load cells, force transducers, avionics, transportation, high-temperature, military, and space systems, in addition to automatic test equipment, farm machinery, alternative energy, automotive, medical, and energy exploration applications.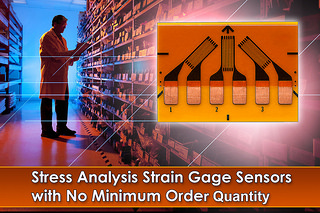 "The initial step in preparing for any strain gage installation for stress analysis testing is the selection of the appropriate gage," said Jenny Royal, Micro-Measurements senior manager, sales and marketing. "While it may appear that strain gage selection is a simple exercise, it is critical that a thorough review of the application be done with attention to gage characteristics and parameters. This is very important in terms of optimizing the gage performance for the specified environmental and operating conditions, obtaining accurate and reliable strain measurements, and simplifying installation while minimizing total costs."
"Our new program with Digi-Key will provide quick availability of a wide variety of our standard strain gages for stress analysis purposes and as the sensing elements in transducers for measuring physical variables other than strain, such as weight, force, torque, and pressure," added Royal.