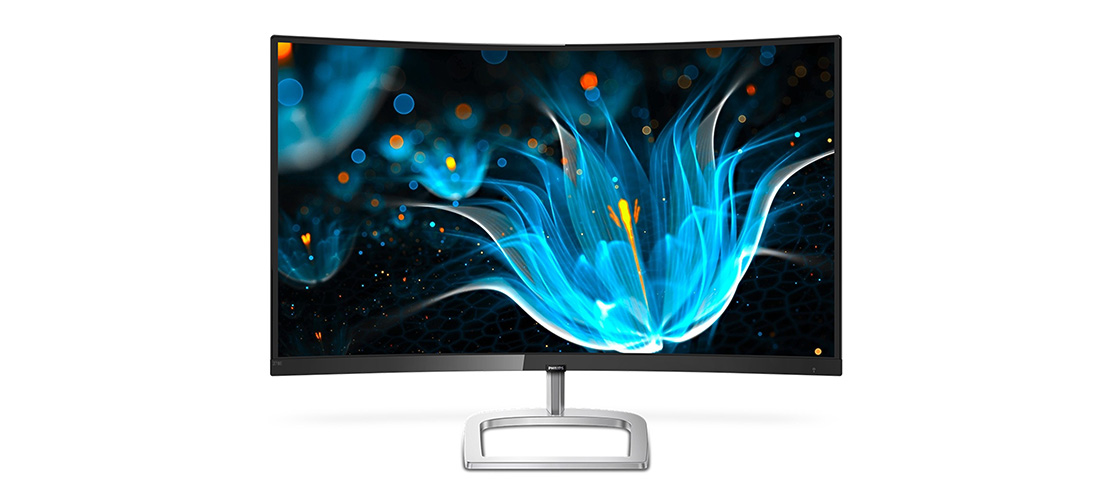 MMD
Monitors that offer a more immersive, colorful, stylish experience
It has been announced that MMD, brand license partner for Philips monitors, is releasing the 278E9, the latest addition to the E9 line of consumer displays. Featuring the stylish design and high-quality image performance for which the E9 line is known, the 278E9 offers a curved 27" narrow border Ultra Wide Color Full HD display for realistic visuals and extra wide viewing angles in addition to features such as AMD FreeSync for a smooth and more fully immersive user experience.
More colorful monitors
Equipped with a luminous 27" Ultra Wide Color LCD display, the 278E9 monitor is endowed with a wider color gamut than its predecessors. This results in more natural looking greens, more vivid reds, deeper blues, and an overall more brilliant picture. In addition, enhanced Full HD 1920×1080 (16:9) resolution ensures excellent picture quality with crisp detail, extra brightness, powerful contrast, and realistic colors for lifelike image rendering.
The 278E9 also features an array of additional features for greater viewing comfort. Flicker-Free Technology regulates brightness and reduces flicker, while Philips LowBlue Mode uses smart software to reduce harmful shortwave blue light for greater well being. In addition to these, EasyRead provides a paper like reading experience, SmartImage ensures easy optimized image settings, and SmartContrast delivers deep black levels for visuals that pop.
More immersive monitors
The 278E9 features a curved VA display that can reach up to 1800R curvature for more immersive experiences with less distortion. Philips VA LED technology uses an advanced multi-domain vertical alignment approach that results in super-high static contrast ratios for bright, vivid images, while its optimized pixel management provides 178/178° extra wide viewing angles. Photo editing, web browsing, movie watching, and graphics work thus become more immersive than ever.
With the addition of AMD FreeSync technology, the 278E9 delivers a fluid, artifact free performance at virtually any frame rate. To complete the immersive effect, the display includes a pair of high quality built-in stereo speakers.
More stylish monitors
The Philips 278E9 is slimmer and more elegant than ever. Its high end design features a three sided ultra narrow bezel border display for a smooth, seamless appearance, minimal distractions, and maximum viewing size. Available in a glossy black finish with a stylish brushed metal stand that can be tilted -5 to +20°, the monitor also comes with a VESA mount for added convenience.
More connected monitors
Equipped for universal digital connectivity, the 278E9 monitor contains the necessary hardware to accept VGA and High Definition Multimedia Interface (HDMI) input for high quality digital video and audio transfer from a PC or any number of AV sources. Ensuring even greater convenience and connectivity, it also includes a DisplayPort connection for lightning-fast imaging and refresh rates, as well as Separate Sync and Sync on Green input.
The Philips 278E9QJAB will be available in July 2018 with an RRP of £199.