Now anyone can design anything with this $50 3D printer
There are a plethora of more affordable 3D printers on the market now that additive manufacturing has become so popular in the tech realm — but so far none of them have cost just $50.
A North Carolina-based start-up company, 101Hero is trying to change that by making 3D printing accessible and dependable for everyone.
The 101Hero 3D printer was developed in order to be used in such a simple way that all you'd have to do is turn on the printer, insert the memory card, and start printing.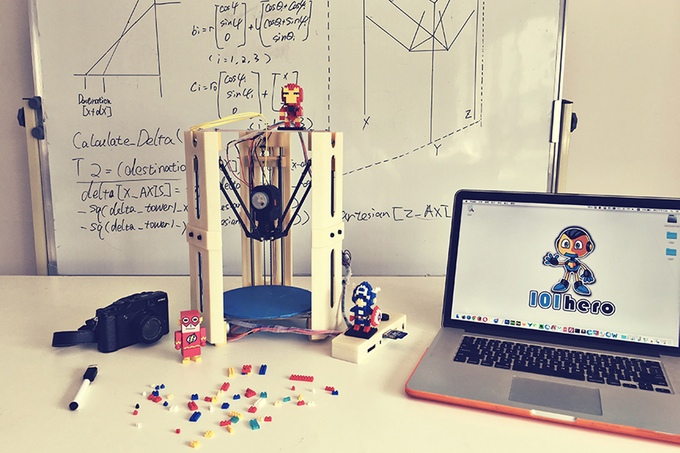 The printer does not require a connection to a computer, instead it just requires being plugged in to an ordinary power source. Designs can be downloaded from the 101Hero website onto the memory card or users can create unique designs. For advanced designs the Designer and Developer Version (DV) can connect to a Windows, Mac, or Linux computer to create and print directly using free open-source software.
The 101Hero is compatible with PLA, HIPS or ABS, as well as custom 101Hero filament spools or other standard 1.75 mm filament spools that are available on the market.
Why is it so cheap?
According to its creators, who started developing the printer three years ago, after trying hundreds of component combinations, they found a recipe that worked best by re-designing and customizing a motor while leaving only the essential structure needed for stable, quality 3D printing to make it affordable and easy-to-use.
Its technologies and specialized components give it a different cost structure than other 3D printers on the market. The team had built more complex and more expensive 3D printers in the past and used its  experience to simplify the design, optimize performance, and reduce costs.
Currently the 101Hero 3D printer can be found on Kickstarter, where it has far exceeded its $20,000 funding goal. If you're interested in supporting the campaign or securing a printer, visit its
page
.