Who doesn't love drones? Parrot, the well-known developer of UAV technologies, has done it again. The company just released 13 new connected robots to its army that can now take on land, air or sea.
Parrot's drones can be controlled via smartphone or tablet by downloading the free app, FreeFlight3, but you can get a taste of their functionalities in the video below.
Check out the new Parrot robots, separated into 3 categories:
Parrot Jumping Drones

These terrestrial robots are piloted in Wi-Fi 2.4 or 5 Ghz and come with an embedded camera, speaker and microphone (yes, they even talk).
Like the name suggests, they can jump up 2.5 feet in the air and always land on their wheels. For an added bonus, install a programmable road plan and map out the drone's itinerary that it will automatically follow.
Two cool robots in this group:
The Jumping 'Night', equipped with two powerful LED lights with adjustable intensity.
The Jumping 'Race', true racing cars capable of quick acceleration with 8 mph bursts of speed!
Parrot Airborne Drones

Parrot considers these robots "flying acrobats" since they are ultra-compact, light-weight and equipped with propellers. The airborne drones are full of sensors, have a 3-axis accelerometer, 3-axis gyroscope, vertical camera and an ultrasound sensor.
Airborne's tricks include high-speed flights: they rush up to 11 mph, turn right, turn left and perform fluid flips.
Parrot Hydrofoil Drones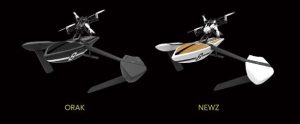 The tiny hydrofoil drone can rise out of the water at 6 mph (maximum speed in air 11 mph) and is powered by a small engine. Its four propellers allow it to glide on the water and hover two inches above.
For more information on pricing and availability visit Parrot's website.