Thanks Google: You Must Speak Six Different Languages To Open Up This Beer Fridge
For a few years now, Molson Canadian, a division of Molson Coors Brewing Company, has been celebrating Canada Day with a unique marketing tool: a beer refrigerator that requires you to insert some sort of Canadian paraphernalia (like a passport) into the refrigerator to get it to open up and give you a nice cold brew.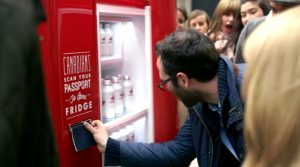 This year Molson Canadian teamed up with Google to take the concept one step further. Thanks to Google voice-recognition technology, The Global Beer Fridge, as this year's contraption is called, requires you to find six different people that speak six different languages and have them speak into the refrigerator the phrase "I am  Canadian" to get it to open.
Of course, if you happen to know six different languages, you can get it to open all on your own.
Seems like a lot of work just to get a beer, no?
The refrigerator will be on display at the Molson Canadian House from July 11 to July 25 for the kick-off of Toronto's 2015 Pan Am/Parapan Am Games. So if you're travelling around Canada and know six languages, stop by and grab a cold one.
Watch the video for behind-the-scenes footage and more information about the Global Beer Fridge.
https://www.youtube.com/watch?v=A11G859Q3TM