Chevy announces theft alarm system, sends notification to your phone if someone breaks in
Is that your car alarm that's sounding off? You won't even need to ask twice.
Thanks to Chevrolet and OnStar now you can receive notifications right to your phone via text or e-mail if the theft-alarm system is triggered.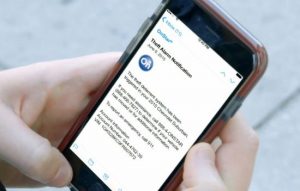 "Prompt response and quick awareness of theft situations give customers a greater chance to recover stolen property," said Sandor Piszar, director of Chevrolet Truck Marketing. "By leveraging the connection that OnStar provides, Chevrolet owners can remain in contact with their vehicle, even when it is out of sight."
If a Chevy vehicle gets stolen regardless of the notification, OnStar will work with the local authorities to use GPS technology and pinpoint the vehicle's exact location. Certain Chevy models even offer a service that allows  the OnStar team to send a signal that will slow down the vehicle and help police officers recover it, as well as prevent any high-speed chases.
The Theft Protection Package is available on Chevrolet's Tahoe and Suburban LT and LTZ SUVs, which also feature glass breakage sensors, interior motion sensors and an inclination/tilt sensor. Each one of those features will sound an alarm if the vehicle is lifted off the ground, a break-in is attempted, or if motion is detected within the vehicle when the alarm is armed.
The Theft Alarm Notification feature is included within OnStar's Stolen Vehicle Assistance service and is available to subscribers with the Security or Guidance package and a compatible vehicle. Most 2014 model year and newer Chevrolet vehicles are equipped to offer Theft Alarm Notification. Subscribers can confirm if their vehicle is compatible here or by speaking with an OnStar advisor.
Click here to learn more about OnStar and Theft Alarm Notification.