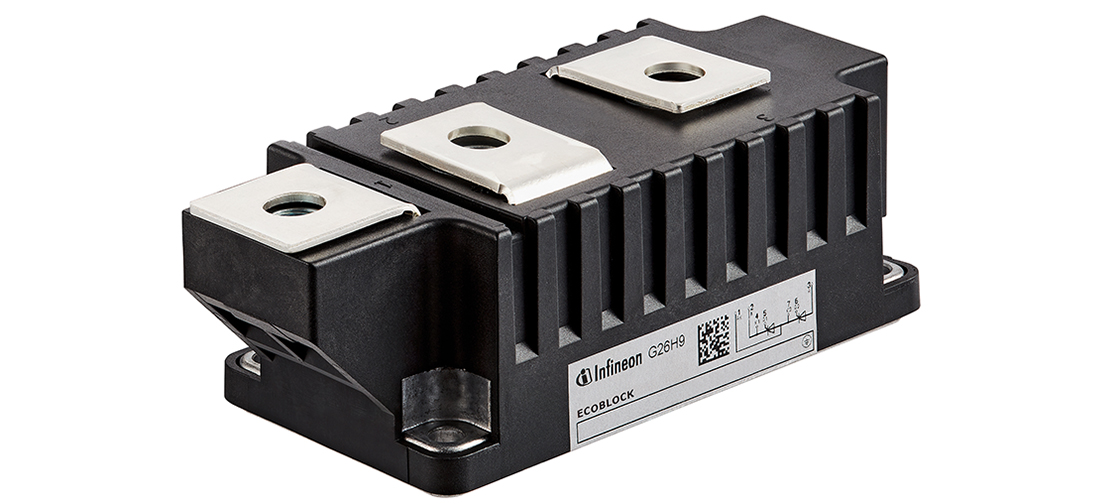 Infineon Technologies
The product portfolio of 60 mm thyristor/diode modules with pressure contact technology from Infineon Technologies Bipolar has been redesigned. The new Eco Block family addresses the demand for cost-efficient larger modules for battery chargers, static and bypass switches and windmills.
Additionally, the modules are a good fit for soft starters as well as rectifiers for drives and uninterruptable power-supply (UPS). Due to its higher junction temperature, they are aiming at applications with air-cooled designs.
The Eco Block modules feature all essential functions and make use of the pressure contact technology while stripping down costly extras. They provide thyristor and diode blocking stability leading to high reliability and an outstanding lifetime. The pressure contact technology aims to guarantee a short-on-fail feature, which in return prevents arcing. This allows for simplified safety designs in terms of unit shielding and fusing effort.
Infineon Technologies Bipolar offer the new 60mm modules with a high overload capability. Combined, these features help to minimize failure rates and reduce system cost. With its proven reliability and functionality, the Eco Block offers the best value for money for a 60mm pressure contact module in the market.
The new 60mm Eco Block family with pressure contact technology is available in high quantities. All modules are offered in the topologies thyristor/thyristor and thyristor/diode with a blocking voltage of 1,600 or 2,200V and in current ratings from 420 to 630A. Additional module types in 70mm are planned for release in the course of 2019. For an optimized performance and keeping customer´s production fast and clean, the next portfolio extension will be pre-applied Thermal Interface Material (TIM).