5 Awesome 3D-printing projects
In an attempt to reduce lead times and the cost of developing prototypes, 3D printing was born.
Over the past few years, we've seen the 3D-printing industry grow, making it possible to 3D print organs, limbs and even bones. While those projects are groundbreaking and meaningful, there have also been some other outrageous 3D printing projects worth taking a look at.
Just recently, Chinese PC company, Lenovo, showed the world it was stepping into the 3D-printing space when it showcased its 3D chocolate printer at the Lenovo Tech World Conference.
Let's take a look at some of the lesser known outrageous 3D-printing projects out there.
1. Barilla Pasta's 3D pasta maker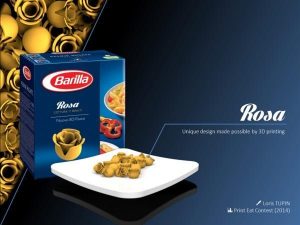 The printer puts a personal spin on Sunday dinner so pasta can be created in a variety of shapes, and if you're dining at a restaurant you can have the chef personalize your entree. (Think rose-shaped pasta noodles for your anniversary). Barilla showcased the technology at the Milan Expo last month.
2. Jell-O shot 3D printer
A hobbyist discovered on SpritesMods.com wanted to create a large batch of Jell-O shots for a friend's birthday and decided to put his tinkering skills to use. He created a 3D printer using old CD-ROMs, used banana liquor as the printing fluid and was able to 3D-print designs within a cup of Jell-O. Watch it here
3. 3D-printed spaceship cockpit
This 3D-printed cockpit complements a 3D-printed virtual reality headset that allows users to fly around an O'Neill cylinder –  in their mind. Hawaiian artist Micah Ganske developed the project that took about 75 days of total print time divided up by several printers in an effort to combine tactility with virtual spaces.
When a user enters the 3D-printed cockpit it is replicated virtually and transformed into a space vehicle that takes him or her through a space habitat and even past some of Ganske's previous artwork.
4. 3D-printed bee hive
A father-son team from Australia discovered a way to extract honey from a bee hive without getting stung. The plan even generated over $12 million in support on Indiegogo.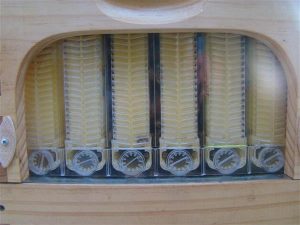 Their entire honey-extraction process was centered on a 3D-printed mechanical honey frame made from food-grade, non-toxic plastic. The manmade hive would function like a natural one, but instead of breaking the hives apart to gather honey (and get stung in the process) the Flow Hive has a handle that can be turned to break the components apart.
5. Your face… on a pancake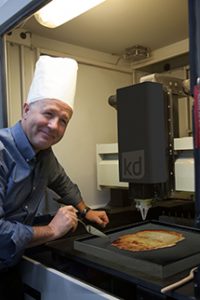 Hungry? You can eat a 3D-printed pancake with your own face on it thanks to design company Kinneir Dufort. In this case the 3D printer works in conjunction with a digital camera and image processors to cook you up some breakfast that looks like you.
We'll keep you posted on other outrageous 3D-printing projects as they pop up.