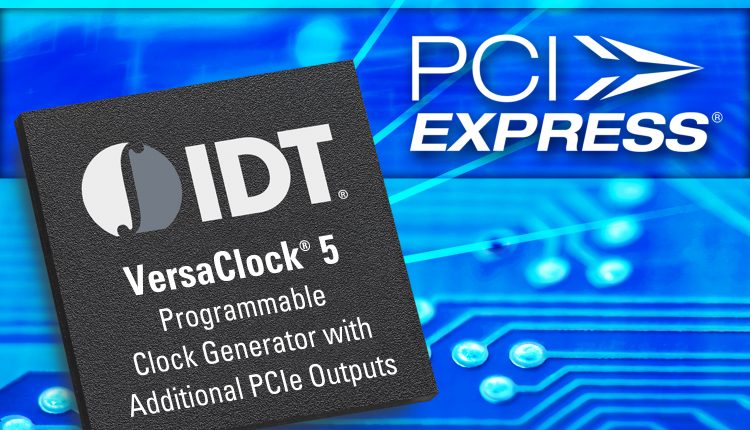 Create a simple IDT PCIe clock with flexible outputs
Integrated Device Technology announced the expansion of its VersaClock 5 family of programmable clock generators with new devices that simplify the creation of PCI Express clocks for a design while providing the flexible outputs for which VersaClock is known. The new members of the high-performance VersaClock 5 family feature dedicated low-power HCSL (LP-HCSL) outputs that reduce board space and bill of materials by providing an integrated clock generation and distribution solution for PCIe designs.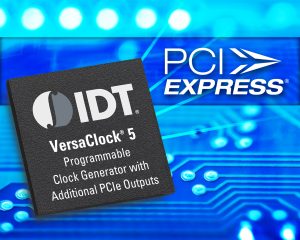 The 5P49V5907 and 5P49V5908 devices have three outputs that can generate any frequency up to 350 MHz in various output types, and an additional four or eight LP-HCSL outputs specifically for PCIe clocking. They possess the same best-in-class jitter and power performance as the original 5P49V5901 device.
"IDT continues to develop technology that enables engineers to build highly flexible low-power timing systems with ultra-compact footprints," said Kris Rausch, general manager of IDT's multi-market timing division. "With these new devices, design teams building PCIe-based systems enjoy the superior performance of the original VersaClock 5 device as well as tighter integration that shrinks board space and BOM."
VersaClock 5 programmable timing devices feature excellent jitter performance at half the power of competing devices. With RMS phase jitter of less than 0.7 picoseconds over the full 12 kHz to 20 MHz integration range, the products are ideal for such markets as high-end consumer, networking, computing, industrial and communications.
Pricing and Availability
The 5P49V5907 and 5P49V5908 products are available now in 1,000-part lots at a per-unit price of $5.5 and $6.5 respectively.