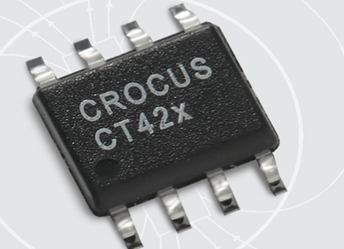 Crocus Technology announced the CT425, CT426, CT427 and CT428 isolated current sensors with <1% total error over the full operating temperature range while maintaining accuracy and bandwidth. The high-speed operation and accurate output enable system design for smaller size and higher efficiency.
The CT42x with less than 300 ns response time greatly simplifies the solution in EV Charging applications which are using Gallium Nitride or Silicon Carbide transistors to improve power density. It offers improvements in performance and size compared to the classic isolated current sense solutions with a shunt resistor, amplifier, and digital isolator to sense the voltage and convert the signal into a current measurement.
The CT42x features robust built-in immunity to common-mode fields allowing the device to reject greater than 99% of external stray magnetic fields without the need for external shielding while maintaining <1% total accuracy. Crocus' TMR technology offers a very high signal-to-noise ratio (SNR) for high resolution measurements for precision control or monitoring applications.
The sensors are available in an industry standard SOIC-8 package. Samples and evaluation boards are currently available. For more information on the CT42x product family, please visit the product webpage: https://crocus-technology.com/products/ct42x/
Original Release: Globe Newswire