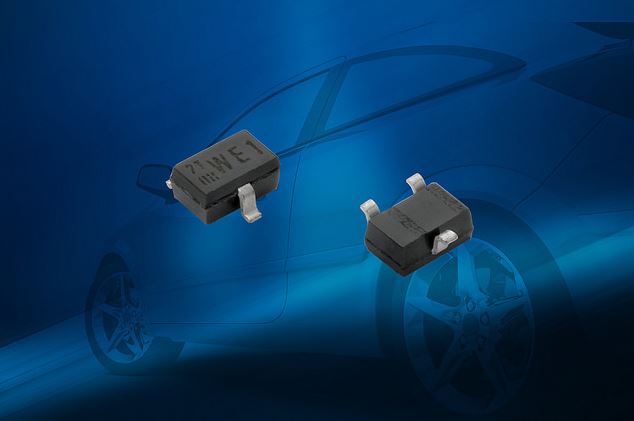 ESD Protection Diodes Are Offered In The SOT-323 Package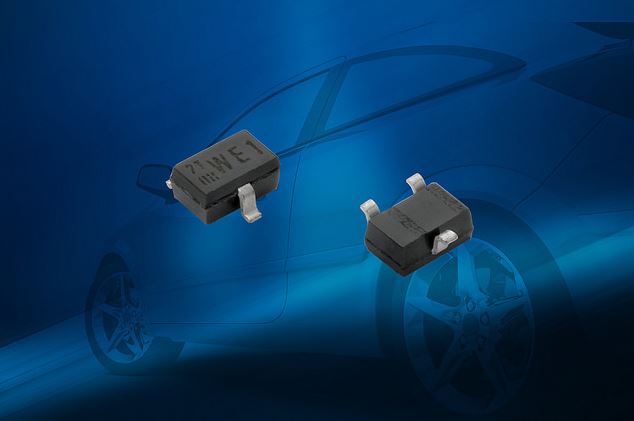 Vishay Intertechnology released new bidirectional symmetrical (BiSy) ESD protection diodes in the compact SOT-323 package. Measuring only 2.3 mm by 2.1 mm with a low 0.95 mm profile, the space-saving Vishay Semiconductors single-line VLIN26A1-03G and dual-line VCAN26A2-03G offer low capacitance and leakage current for the protection of automotive data lines against transient voltage signals.
For LIN bus applications, the VLIN26A1-03G provides transient protection for one data line as per IEC 61000 4 2 at ± 30 kV (air and contact discharge), while the VCAN26A2-03G protects two lines for CAN-Bus and FLEX-Bus applications. The AEC-Q101-qualified devices feature low load capacitance of 10 pF typical and 15 pF maximum, low maximum leakage current of < 0.05 μA, and a working voltage of ± 26.5 V. The protection diodes are lead (Pb)-free and RoHS-compliant.
Samples and production quantities of the new VLIN26A1-03G and VCAN26A2-03G are available now, with lead times of eight weeks for large orders.