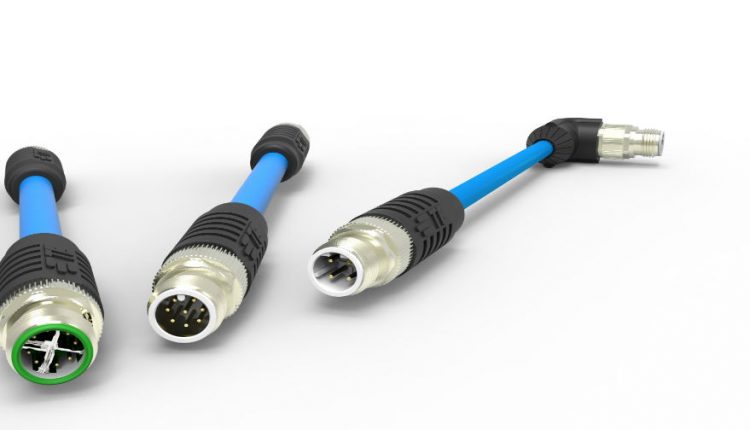 TE Connectivity
M12 cable assemblies enable rapid implementation of high-speed data networks
TE Connectivity has extended its modular twisted pair cable assembly offering with M12 cable assemblies. Conforming to EN45545 HL3 with fire and smoke characteristics, TE's M12 cable assemblies are suitable for public transportation and other heavy industrial applications. Their rugged design enables them to withstand the vibrations experienced in trains and other demanding environments.
"Our M12 cable assemblies meet the demand for increasing digitization in applications such as rail data communication systems," said Egbert Stellinga, product manager at TE Connectivity.
"They deliver the best data speed possible, up to 10Gb/s, and are highly robust to enable the best passenger experience combined with safe and reliable transportation."
TE's series of standard M12-to-M12 cable assemblies uses compact, straight and right-angled connectors allowing the cable to be used in confined areas.
The full metal shell in combination with Secure cable shield termination makes the system EN50155 compliant.
A wide range of features
Together with fire and smoke compliance, the cable can withstand severe shocks and vibrations according to EN 61373 Cat1 Class B due to its rugged design and machined contacts.
The unique crimped cable strain relief contributes to the high data speed and also eliminates conductor breakage that could lead to system failure.
In addition, the crimping system creates a tamper-proof installation, preventing accidental unlocking of the strain relief.
High speed category 5e or 7 cable ensures they meet future requirements, allowing the them to be used in later network upgrades.
M12 cable assemblies are IP67 sealed and 100% tested in TE's factory to eliminate the possibility of false wiring.
They are available in lengths from 1.0 to 20m in 0.5m increments, plus special lengths can be handled on request.
They come pre-assembled, reducing installation time and enabling quick implementation of data networks.