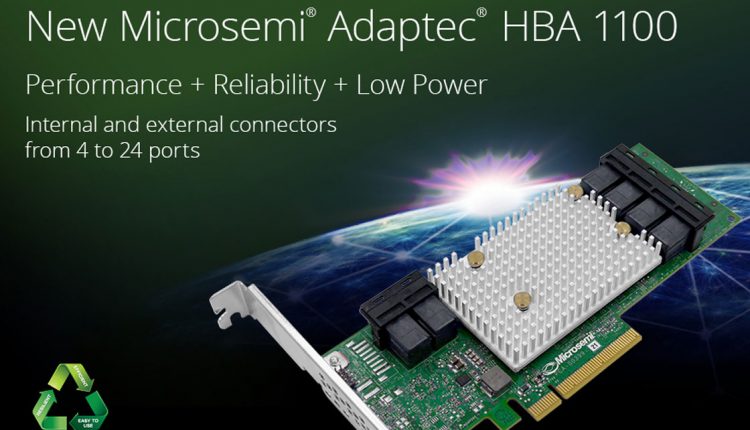 Credit: Microsemi
Microsemi expands market opportunities for cloud data centers
Microsemi has announced interoperability between its 12Gbps SAS/SATA Host Bus Adapters (HBAs) and Redundant Array of Independent Disk (RAID) adapters, including the Microsemi Adaptec HBA 1,100, SmartHBA 2,100 and SmartRAID 3,100, part of its Smart Storage adapters portfolio, and AMD's EPYC processor series.
Data center customers looking for a storage adapter solution for EPYC processor deployments can now utilize Microsemi's full suite of Smart Storage solutions with confidence as a fully compatible end-to-end solution.
"As AMD-based processors are increasingly being considered for next-generation server deployments in cloud data centers, extensive interoperability testing between our companies has shown our feature-rich high performance Smart Storage adapters to be a powerful storage solution when paired with AMD's EPYC processors," said Pete Hazen, vice president and general manager of storage solutions at Microsemi.
"We are pleased to work closely with a well-respected industry leader, as this collaboration provides data center customers with the confidence to make Microsemi their first call when looking to adopt AMD's unique EPYC processors."
Market research firm IDC recently reported the worldwide server market grew nearly 20% in the third quarter of 2017, reaching $17bn and trending even higher than the same research firm's long-term forecast of four percent Compound Annual Growth Rate (CAGR) from 2015-2020. The Microsemi Smart Storage platform, which leverages the company's unified Smart Storage Stack, is optimized for a variety of server storage applications for data centers, server Original Equipment Manufacturers (OEMs) and server Original Design Manufacturers (ODMs) due to its high performance and flexibility.
"The server processor market is experiencing tremendous change as workloads and applications continue to evolve, consuming more memory bandwidth and I/O than ever before," said Raghu Nambiar, CVP and CTO of Datacenter Ecosystems and Application Engineering, AMD. "This is where the AMD EPYC processor stands apart, delivering leading performance and scale for cloud and enterprise customers. Now these customers can benefit from Microsemi's feature-rich Adaptec Smart Storage technologies combined with the AMD EPYC processor to help them achieve new levels of total cost of ownership savings in the data center."
AMD collaborates with Microsemi as part of Microsemi's Accelerate Ecosystem, which facilitates collaboration between Microsemi and leading firms in the semiconductor Integrated Circuit (IC), Intellectual Property (IP), systems, software, tools and design spaces to integrate, test and deliver pre-validated designs and system-level solutions for end customers in Microsemi's key vertical markets—aerospace and defense, data center, communications and industrial. The Accelerate Ecosystem is designed to reduce time-to-market for end customers and time-to-revenue for Microsemi and ecosystem members via technology alignment, joint marketing and sales acceleration.
The Microsemi Adaptec HBA 1100, as well as the company's SmartHBA 2100 and SmartRAID 3100, leverage the unified Smart Storage Stack. The combination of its Unified Smart Storage Stack, SmartRAID and SmartHBA, HBA product families and Microsemi's SXP family of SAS expanders provide a complete server solution for storage management and connectivity. Each family has unique differentiating features.
The HBA 1100 is optimized for SDS, cold storage and raw high-performance connectivity. It also includes:
Adapters with up to 24 ports using 28nm SAS/SATA-optimized silicon, offering an optimal power profile for the target applications
Support for host-managed and host-aware SMR drives
Broad OS driver support, including inbox driver support
Performance of up to 1.7 million Input/Output Operations Per Second (IOPS)
The SmartHBA 2,100 is optimized for SDS applications which desire hardware RAID for OS boot drives as well as entry level RAID for SMBs. It also provides:
Basic RAID without compromising on the requirement for a fully featured and functional HBA, which is required for multi-path IO and SDS applications
Mixed mode enables drives to be independently configured as raw drives or as part of a logical volume
True hardware RAID for RAID 0,1,10 and RAID 5
Industry's only basic RAID solution with more than eight ports
The SmartRAID 3,100 is optimized for enterprise storage applications which require the highest level of data availability and data center applications which benefit from caching. It also features:
Adapters with up to 24 ports using 28nm SAS/SATA-optimized silicon, offering an optimal power profile for the target applications
Zero Maintenance Cache Protection (ZMCP) with a cache size of up to 4GB and integrated cache backup circuitry for optimal cost, thermal performance and operating efficiency
Board options without cache backup
maxCache 4.0 included on all adapters with up to ~2TB SSD cache
Roadmap to maxCrypto controller-based encryption