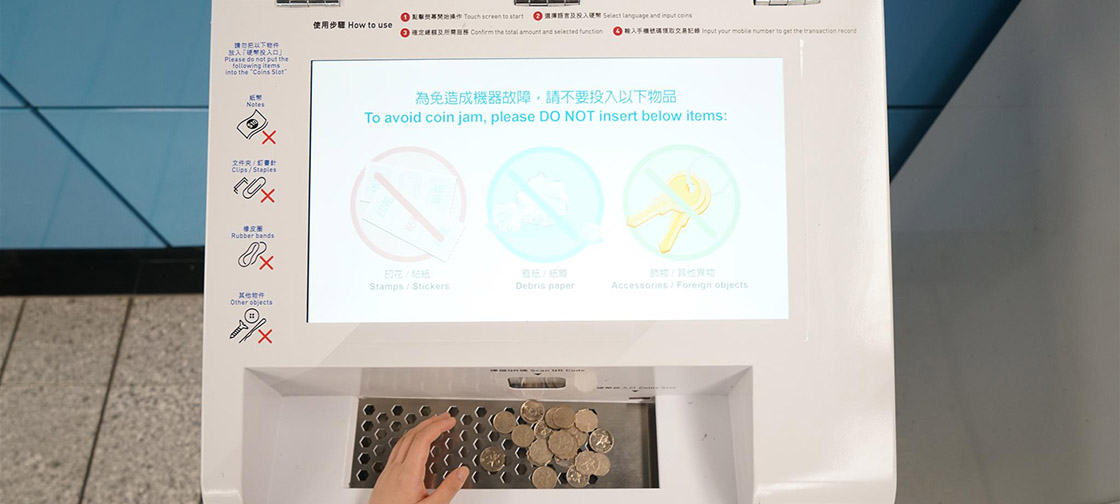 Giada
Powering digital currency exchange kiosks in China
The financial technology (Fintech) industry is thriving globally and received $17.4bn in investment last year alone. A third of consumers worldwide are using two or more Fintech services, such as various kiosks supporting e-wallet or currency exchanges deployed at banks, financial institutions, subway stations, and airports.
Heycoins is one of those successful endeavors actively involved in the process of creating these new Fintech applications. Heycoins tackles the hassle and inconvenience created by the use of physical coins with its kiosk network in Hong Kong. Heycoins Kiosk collects coins from consumers and converts them into the digital currency that can be used for various purposes, including charitable donations, e-wallets recharge, gift coupons and special offers. So far Heycoins has deployed over 20 kiosks in Hong Kong and is working with Chinese software Giant Tencent on a national roll out.
Heycoins went for one of the best fanless solutions on the market to handle their financial transactions. The Giada F302 supports remote management, powerful CPU, and Intel vPro security, to support 24/7, non-stop financial transactions in a bustling metropole like Hong Kong. With over $7.5m in small coins already processed in the first six months of 2018, the ease of the kiosks is experienced by more and more people each.
Learn about this solution by hearing it directly from all parties involved, by watching the case study video here.
High-performance and secure PC based on vPro platform
The Giada F302 fits perfectly in Heycoins demand for a 24/7 PC platform with integrated security and remote management capabilities. The kiosk machine, powered by Intel Skylake Core i3 and i5 processors, supports Intel vPro and dual 4K video output. The F302's fanless design, features six com ports, dual Gigabit Network interfaces, and a SIM slot to support telecommunications networks.
Its M.2 PCIe channel for SSD enables fast data access. With the combination of both Intel and Giada's integrated management and security features, a safe and reliable system could be offered that powers kiosks all over Hong Kong with minimal maintenance.
New computing platform for outdoor kiosks
Giada also provides a computing system that supports (semi-)outdoor environment. The company globally released the AE67-W1 in July. The AE67-W1 is based on the F302's industrial design and features certification for wide operating temperatures, ranging from -20 to 60°C.
The AE67-W1, powered by Intel Kabylake Processors, is an Intel vPro enabled platform in both wired and wireless mode. It supports remote control and hardware enhanced security.