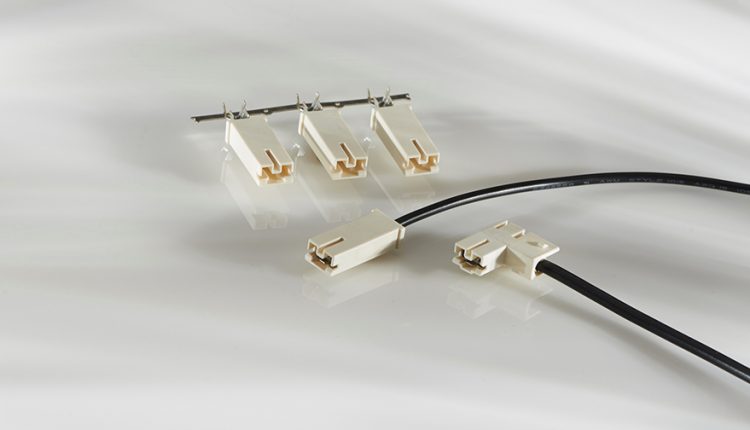 TE Connectivity
Receptacles with ergonomic solution for high volume applications
It has been announced that TE Connectivity (TE) has introduced its pre-insulated POD-LOK receptacle product line. These two in one products combine Positive Lock receptacles with housings meeting the glow wire test and UL 94 V-0 flammability.
The result is an ergonomic, low insertion force (LIF) receptacle and integral robust housing that can be crimped and applied in one quick step with an automatic applicator. These new receptacles are expected to find use in high volume applications such as home appliances, HVAC systems and industrial machinery.
Laura Lu, Terminals and Splices Product Management Leader in TE's Appliances Business Unit, stated: "POD-LOK receptacles can offer significant applied cost savings, as no secondary operation is required to apply the housings. An automated applicator crimps the receptacle to the wire and slides the housing into its installed position quickly and efficiently."
Both straight and flag type POD-LOK receptacle terminals are offered in 187 and 250 series. The LIF receptacles offer the security of a locking feature that resists accidental disconnection, but permits relatively easy intentional extraction. The integrated housings provide insulation to help prevent shock and short hazards, and they act as a removal tool.
Once the POD-LOK receptacle is installed on a mating tab, pulling on the wire will not easily release the terminal; however, pulling on the housing releases the receptacle's locking feature and allows the receptacle to be removed from the tab with minimal effort.
These open barrel, F crimp terminals with insulation support are pre tin-plated brass, with natural color, glass-filled nylon 6/66 housings. They are provided in strip form on reels. Rated 600VAC, they carry maximum continuous current ranging from 3 to 20A, depending upon wire size utilized, over their -40 to +105°C operating temperature range.
Furthermore, the housings meet the glow wire test, 750°C, no flame, per IEC 60335-1, and they meet UL 94 V-0 flammability. Optional snap-on back covers are available for use on flag models to fully enclose the receptacle.
The 187 series POD-LOK receptacles accommodate wire sizes from 0.2 to 1.4mm2 and mate with 4.75 x 0.5 mm tabs. The 250 series POD-LOK receptacles are offered for wire sizes from 0.32 to 3.3mm2 and mate with 06.3 x 0.8mm tabs.
Pre-insulated POD-LOK receptacles are designed for application with POD-LOK applicators.