Switching and simulation modules showcasing at ITC
Showcasing its latest PXI and LXI switching and simulation solutions and software at the International Test Expo (ITC 2016), is Pickering Interfaces.
The event which will take place November 15th-17th will see Pickering Interfaces in booth 216 with its products including:
New modular LXI reed relay high-density matrix
Originally designed to test Semiconductors at wafer and package levels, this soon to be released Reed Relay matrix solution combines our Model 65-200 LXI Modular Matrix Chassis with our new plug-in matrix modules that provide access to all signal connections on 200 pin connectors. It is capable of supporting matrices with a Y-axis size of 4 and expandable in the X-axis range up to 1,536 in increments of 128. Users can specify as many or as few plug-in modules (up to six) required and can field upgrade the chassis to extend the matrix when necessary. Another important feature is that over 1,500 relays can be closed simultaneously for specific conditions for parametric testing.
2-slot USB/LXI Ethernet modular chassis (model 60-104)
This new chassis offers a small lightweight form factor, making it ideal for portable, benchtop and space restrictive applications. It supports one or two 3U Pickering PXI modules and accepts the vast majority of Pickering's PXI extensive product range. The USB compatible and LXI compliant Ethernet interfaces enable the chassis to be controlled directly through standard interfaces found on most personal computers—allowing for a very cost effective route into the modular test and measurement market.
Switch path manager signal routing software
This new signal routing software simplifies signal routing through switching systems and speeds up the development of switching system software. Switch Path Manager supports Pickering's PXI, LXI, PCI and GPIB switching modules and the interconnection between these products.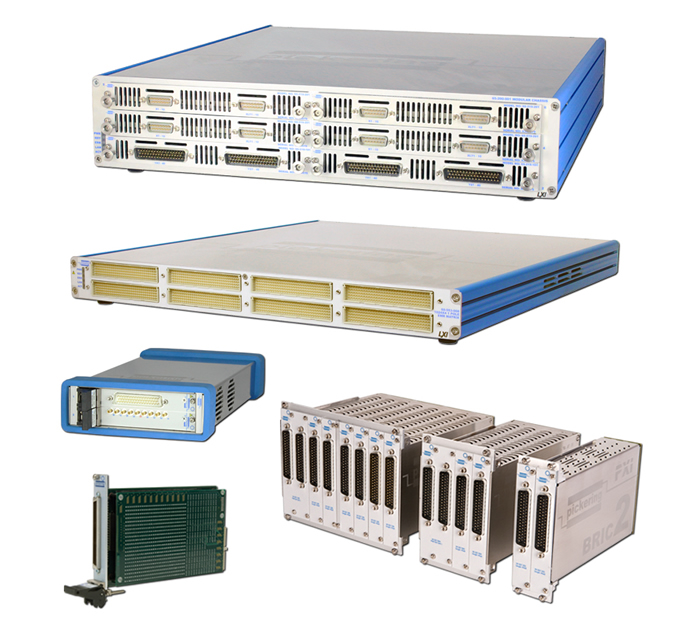 Additional products being shown in the booth include: high-density PXI & LXI matrices, programmable resistor modules and diagnostic test tools. Below are some of the products that will be one display:
BRIC high-density PXI matrix modules (40-568) – These modules are available in 2, 4 or 8-slot PXI sizes to suit all high-performance matrix requirements and are constructed using high quality electro-mechanical relays for high switching confidence. These modules allow a complete Functional ATE system to be housed in a single 3U PXI chassis.
High-density single slot PXI reed relay module (model 40-540) – Highest density single slot Reed Relay Matrix available with 528 crosspoints, available as a 132×4, 66×8, or 33×16 matrix with 1-pole switching. Typical applications include signal routing in Functional ATE and data acquisition systems.
High-density single pole LXI Ethernet matrix modules (model 60-553) – These modules can switch up to 150VDC/100VAC, or 2A (60W max). The use of high-quality electro-mechanical relays offer high switching confidence and make them suitable for signal routing in large ATE and Semiconductor systems.
eBIRST switching system test tools – These tools simplify switching system fault-finding by quickly testing the system and identifying the faulty relays. Once identified, the tools then display a graphical representation of the switching system's PCB assembly, highlighting the relays that need to be replaced.