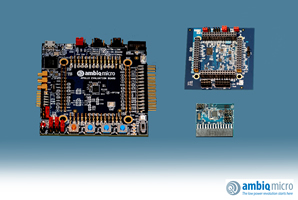 Ultra-low power MCU development kits for Apollo MCUs
Ambiq Micro has announced a duo of Apollo MCU evaluation kits to enable engineers to assess the capabilities and cutting-edge low-power performance of the Apollo sub-threshold MCU: the 'Apollo EVB' evaluation board and the 'Apollo EVK' evaluation kit.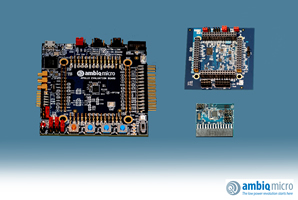 Announced in January this year, the new suite of Apollo MCUs is based on the 32-bit ARM Cortex-M4 floating point MCU and redefines 'low power' with energy consumption that is typically five to ten times lower than that of MCUs of comparable performance. The dramatic reduction in energy consumption is achieved using Ambiq's patented Subthreshold Power Optimised Technology (SPOT) platform and can enable significantly longer battery life in wearable electronics and other battery-powered IoT applications.
A key feature of the primary kit, the EVB evaluation board, is the integration of an on-board hardware debugger together with a complete Software Development Kit (SDK). In addition, the system also comes with FreeRTOS, all the necessary hardware drivers, plus a wide selection of code examples to enable quick and effective hardware and software evaluation, development, debug and prototyping.
The Eclipse based graphical software IDE and the Open On-chip (OpenOCD) debugger command-line terminal interfaces run without any external modules or hardware. However, external support is available via a standard 10-pin ARM connector for debugging with other third-party tools such as Keil, IAR, Segger or Lauterbach. The baseboard's AM-Link mode also enables it to operate as a stand-alone debugger for an external target/prototype system for in-circuit debugging. Also included is a Serial Wire Output (SWO) channel, which supports Instruction Trace Macrocell (ITM) debug output information.
The EVB system can be powered via the single micro-USB cable from either a PC USB port or via a DC adapter included in the kit, with further options for connecting to an external battery or power supply. There is a choice of system operation at either 2.0 or 3.3V with selection via a jumper setting using the on-board voltage regulators or via the external battery connector. Additionally, the board offers split power rails for the Apollo MCU and expansion connector peripherals enabling individual power sources and simultaneous current measurements on both rails.
The EVB has several on-board user interfaces including three user pushbuttons, an MCU reset pushbutton, four user LEDs and a serial-wire-debug activity LED. The baseboard also includes four female expansion card connectors in individual 2×14 pin arrays, which also function as header test points. The baseboard also features an additional right-angle 2×14 header connector for attaching smaller expansion cards.
The second kit, the Apollo EVK evaluation kit adds further functionality and comprises the EVB board system plus add-on modules that include a BLE add-on card and a Sensor Expansion Card.
The BLE card is based on Dialog Semiconductor's low power DA14581 and includes an on-board 2.4GHz antenna. The Sensor Expansion Card comes pre-populated with a host of different sensors including a number of three-axis accelerometers and gyroscopes and a magnetometer, along with 128MB of serial Flash memory for storage of sensor data. This modular board also allows additional radios and/or sensors to be added either via a fly-lead approach or via alternate add-on boards.