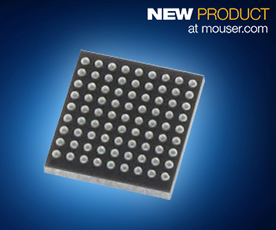 Power efficient processors save space too
The i.MX 6UltraLite applications processors from Freescale Semiconductor are in stock at Mouser Electronics. Building upon its popular i.MX 6 series, Freescale's i.MX 6UltraLite delivers a high-performance, ultra-efficient application processor family that provides maximum performance in low-power, space-constrained embedded environments.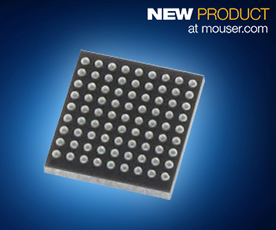 Supported by discrete component power circuitry, the i.MX 6UltraLite processors feature an energy-efficient ARM Cortex-A7 core that operates at speeds up to 528 MHz, an integrated power management unit, multiple memory interfaces, a space-saving BGA package, and a wide range of other communication interfaces for connecting peripherals such as WLAN, Bluetooth, GPS, displays and camera sensors.
The processors are based on an advanced power management architecture featuring multiple energy saving modes, dynamic voltage and frequency scaling and flexible power gating in low power modes through an integrated power switch.
The processor family incorporates a highly power-efficient and cost-effective ARM Cortex-A7 core that operates at speeds up to 528 MHz. The core, combined with its hardware tamper detection and an integrated on-the-fly DRAM encryption/decryption engine, makes the i.MX 6UltraLite one of the most secure ARM Cortex-A7 microprocessor solutions available.
Freescale's family of i.MX 6UltraLite applications processors support a multitude of memory interfaces, including 16-bit LPDDR2, DDR3, DDR3L, raw and managed NAND flash, NOR flash, eMMC and Quad SPI.
Additional communication interfaces on-chip include two high-speed USB On-The-Go with PHY ports, two 12-bit analog-to-digital converters (ADCs) with up to 10 total input channels, two CAN ports, two smart card interfaces compatible with EMV Standard v4.3, and a variety of other interfaces (such as UART, I2C, and I2S serial audio).
The family also provides a healthy set of security features such as secure boot, hardware cryptographic cipher engines and random number generators, which enable hardware-verified peripheral and memory access requests for secure isolation and prevention of infected system resources.
The processors meet a variety of automotive, consumer, industrial, medical, and smart energy applications and markets where security, cost, sleek form factors and optimized power efficiency are vital. The family provides multiple compatible and scalable package options, and is supported by an evaluation kit also available to order through Mouser Electronics.