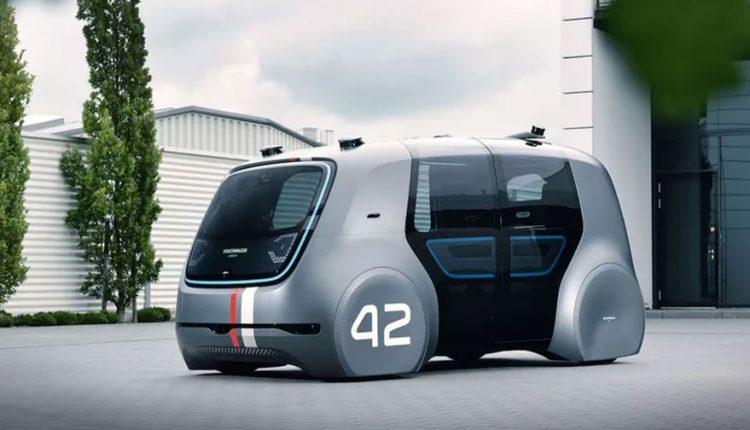 Credit: Volkswagen Group
Volkswagen Group and Hyundai are making a push towards fully autonomous vehicles, thanks to respective deals struck with Aurora Innovations — the company started by former Google self-driving car guru Chris Urmson. The three companies announced today that VW and Hyundai are the first to partner with Aurora, which got started in late 2016 and is focused on selling 'full stack' solutions for fully autonomous cars.
Both the VW Group (the parent company to VW, Audi, and many others) and Hyundai are working with Aurora to build the startup's self-driving technology into some of their vehicles, with the ultimate goal of creating fleets that will be available on demand in cities. Each company said it plans to make Aurora-powered vehicles commercially available by 2021, and both will start testing prototypes later this year. Hyundai will test Aurora's tech on its forthcoming hydrogen fuel cell SUV, while VW Group wouldn't say which cars it might use as prototypes.
The partnership with VW Group is currently ahead of the one with Hyundai. Aurora engineers have spent the past 12 months working with VW Group, and the last six integrating the startup's software and sensors into the auto giant's vehicles at its Future Center in Silicon Valley.
VW Group has teased self-driving technology in a number of concepts over the years, including in the popular all-electric microbus revival (the I.D. Buzz). And other VW Group brands — Audi, especially — have been developing cars with semi-autonomous capabilities for years.
But the VW Group's partnership with Aurora will be more focused on vehicles like Sedric, the company's purpose-built autonomous pod, though it will be adaptable to other shapes and sizes.
Johann Jungwirth, the chief digital officer for VW Group, said the company plans to test a double-digit number of cars by year's end, with half in Silicon Valley and half in Germany. Then VW Group and Aurora will up that to triple digits in 2019, and push it even farther in 2020, with the goal of piloting fleets in two to five cities in 2021, Jungwirth said.
The partnership isn't focused improving or accelerating the driver assistance tech that you can already find in some VW Group cars because Aurora isn't building self-driving tech that only helps you half the time, according to Urmson.
"At Aurora, we're building a driver. We're not building a driver assistance system," Urmson told The Verge. "We really have a deep understanding of what it will take to actually get to a truly driverless vehicle."
Urmson became known for architecting Google's self-driving car project back when it was still part of the company's "moonshots" division. He left the project shortly before it was spun out into its own company (Waymo), and started Aurora Innovations with two major players in the self-driving field: former Tesla Autopilot director Sterling Anderson, and former Uber autonomy lead Drew Bagnell.
Since then, they've been pooling their self-driving experience to develop technology they believe will enable what's known as Level 4 or Level 5 autonomy. According to the Society of Automotive Engineers, cars at Level 4 will be able to completely control themselves across an entire trip within a specific geographic area. Level 5 refers to complete autonomy everywhere.
Many automakers currently working toward fully or semi-autonomous cars buy relevant hardware and software in piecemeal from suppliers like Velodyne and MobilEye and hammer out their systems on the fly. With Aurora, VW Group and Hyundai license and integrate Aurora's full tech suite, opening the door to get there faster.
Jungwirth likens the move to getting in the passing lane on a highway. "I think it's great idea to have a dedicated team [working] just on Level 4 and 5, because that's when we will really see the disruption of automotive industry," he told The Verge. And this way, he said, Group brands like VW and Audi can continue to pursue a more "evolutionary path" of advances in semi-autonomous tech without starting over.
Another way to think of how these partnerships will work is that Aurora provides the self-driving central nervous system, while VW and Hyundai build the body. VW and Hyundai still get to shape the look and feel of the vehicles, maintaining control over the customer interactions, while Aurora's tech operates in the background.
VW Group and Hyundai are not the first to go the route of leaning on another company to develop self-driving technology. GM bought startup Cruise Automation and integrated its tech into a fleet of Chevy Bolts with plans offer an autonomous taxi service in 2019. Ford, meanwhile, poured $1 billion into an AI company called Argo, which it's using to develop self-driving Ford Fusions that could carry passengers in 2021.
The partnerships with Aurora feel different from these examples, though, especially since they're not exclusive. So what drove a massive automotive conglomerate like VW Group to trust a startup that will likely continue to work with competitors? The people, according to Jungwirth.
"It's not just the founder team," Jungwirth said. "The team they've been able to hire, the talent they are attracting? They are the best in the world. The progress they have made in such a short time frame, it's just amazing."
"As the saying goes, A players want to work with A players," Anderson said. "I think the very common response from those who come onsite to interview at Aurora is 'holy shit' — you have an impressive team."
Of course, talent comes and goes; especially these days, when everyone from entry-level employees to C-suite executives openly bounce from Tesla to Apple to Ford and back again. A cursory search of LinkedIn shows that, while Aurora is still very small compared to an automaker, it's already packed with talent from many of the same places its founders came from Uber, Tesla, and Google.
Many employees also came up through Carnegie Mellon University, an institution that is as famous for its world-class robotics chops as it is for once having its top talent looted by Uber when the company started its self-driving division.
So how do you keep those people at Aurora?
"The war for talent right now is incredible," Urmson said. "But my experience is that if you treat people well with respect and empower them to solve interesting problems, and you give them a good mission to work at, [keeping the talent] takes care of itself."
Now that the partnerships have been publicized, Urmson and Anderson said they hope to court more "progressive-thinking automakers" to keep that mission of fully self-driving cars alive. "[These partnerships] proved a little bit of our thesis," Urmson said, "but now we've got an awful lot of work to do."