While solar charges aren't a new innovation, this super-thin solar charger is so lightweight that it can fight directly between pages of a notebook without being noticed.
The  Solar Paper is the world's smallest 2,5W, 5W, 7.5W, 10W solar chargers, according Yolk Station, the device's creator.
If the sun is shining, Solar Paper can charge an iPhone 6 in about 2.5 hours, with similar charging speeds to a traditional a wall charger. The charging device comes equipped with one USB port instead of two for a better and more efficient PCB board design.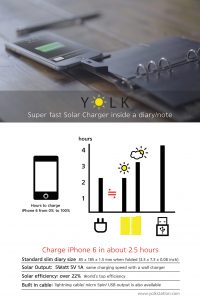 Yolk Station launched a Kickstarter campaign for Solar Paper, which has already far exceeded its initial $50,000 goal. On it's campaign page, the company boasts Solar Paper's unique characteristics which surpass those of its competitor solar chargers.
"While the volume of competitor's solar charger is 16.5 cm x 22.9 cm x 3.8 cm and weight is 460 g, volume of the Solar Paper's is 9 cm x 19 cm x 1.1 cm and weight is 120 g. It is 13% of the volume and 26% of the weight of the competitor's solar charger," Yolk Station wrote. 
On traditional solar chargers, if the solar panels of the device are covered or receive little sunlight, the device will automatically stop charging because there's not enough sun to generate power. Solar Paper came up with a solution to this predicament. The company created the product to automatically reset when it has enough sun light in order to generate more power in a more stable way.
If you want to keep track of how much power your charger has, the company slapped on an LCD screen that will show you the exact load current, or electrical current passed from power source to device, that Solar Paper has generated so you know exactly how much charging ability you have in your hand.
As an added bonus, the company even embedded some magnets so the charger will stick to metal surfaces.
You can order a Solar Paper for $69 for a 5-W charger (other grades and pricing available, too) on the Solar Paper Kickstarter page. Orders will begin shipping September 2015.