An autonomous robot named Tally has been released to take care of shelf auditing and analytics solutions at local brick-and-mortar markets.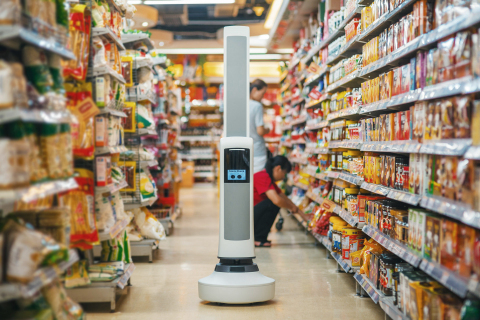 Simbe Robotics developed the robot in response to the billions of dollars retailers lose annually as a result of out-of-stock items, empty shelves, and other in-store inconsistencies. Currently retailers rely on their IT systems and manual labor to account for product availability which has proved to be costly and inaccurate.
How it works
The mobile robot autonomously scans large  retail environments to capture, report, and analyze the state and availability of merchandise and help ensure compliance standard placement of products on shelves in order to maximize sales. Tally performs the repetitive tasks of auditing shelves for out-of-stock items, low stock items, misplaced items, and pricing errors, in an attempt to make sure customers leave satisfied and the company doesn't lose money.
According to the company, retailers will be able to gain insight into the state of their stores using Tally's cloud-powered software platform and API. This information can be used to streamline store performance, maximize customer satisfaction, increase sales, and reduce operational expenditures.
When it comes to the retail industry, shopper experience is everything. If a product is unavailable at the time the shopper wants to buy it, the retailer has missed an opportunity and disappointed their customer," according to Brad Bogolea, CEO and Co-founder of Simbe Robotics. "Tally helps retailers address these challenges by providing more precise and timely analysis of the state of in-store merchandise and freeing up staff to focus on customer service.
Simbe Robotics created Tally in a way that does not require any stores to make changes to their layouts. The robot stands at 38 in., weighs about 30 lbs. and is equipped with a charging dock that it can autonomously navigate back to between scans allowing for continuous operation. The robot includes sensors that enable it to operate safely in retail environments while capturing information on the state of merchandise in the store. When the robot captures data, it sends it to the cloud for processing and analysis. It is then exposed through both an API and front-end application alongside specific recommendations to improve store performance.