Hyundai makes owner's manuals more appealing with Virtual Reality Guide
For those of us who shove the owner's manuals for our vehicles into the glove compartment, never to see them again, Hyundai discovered a solution.
Later this year, the automaker will launch an augmented reality owner's manual app. The Hyundai Virtual Guide app takes the traditional owner's manual and then gives it a high-tech upgrade, allowing drivers to use their smartphone or tablet to get more information on repairs, how-tos, maintenance, and features.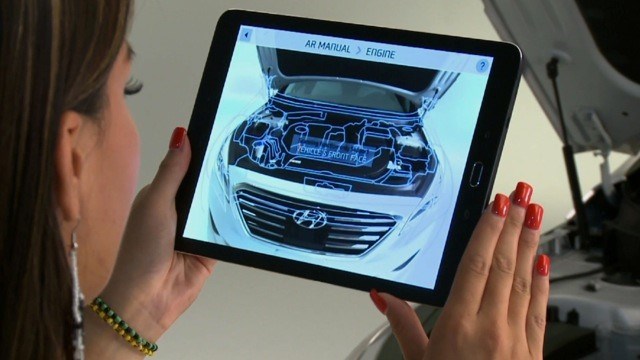 Once launched, the guides will be compatible with the 2015 Sonata model, and later will become available for additional models.
The new app can recognize more than 45 major features of the vehicle.
Hyundai incorporated the top difficult-to-use features in its vehicles and then put them together in the app. Using the guide, drivers will have access to 82 how-to videos, six 3D overlay images that appear once users scan areas of their vehicle like the engine bay and more than 50 informational guides.
"The Virtual Guide is aimed at educating our owners on how to use the functions and features of their vehicle," said Frank Ferrara, executive vice president, customer satisfaction, Hyundai Motor America. "We modernized the idea of an owner's manual to provide the highest-quality user experience for the growing population of tech savvy consumers."
How it works
The Hyundai Virtual Guide uses 2D and 3D tracking technology to deliver information related to different parts of the car. To navigate the app, a user must position their phone or tablet's camera over the part they want to learn more about.
The guide can virtually identify and provide how-to information on the following features:
Air filter
Smart Cruise Control
Bluetooth phone pairing
Warning indicators
Clock
Engine oil
Brake fluid
Fuse box
Smart trunk
The app will be available for free download in the Apple App store and Google Play.