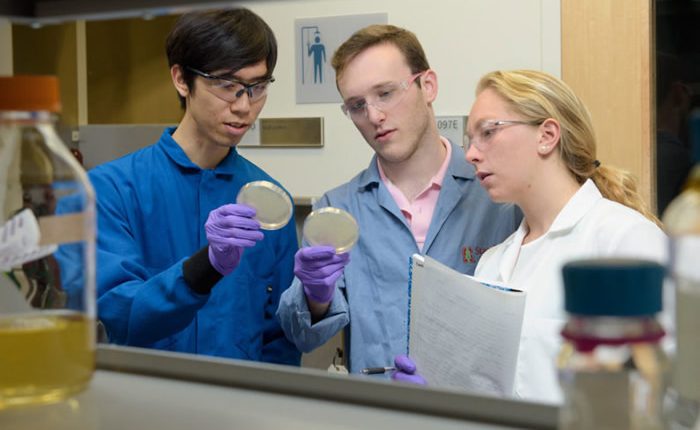 Antibiotic-resistant bacteria are increasing in number globally, threatening human health. An undergraduate entrepreneurship program run by Stanford ChEM-H is helping students design and test drugs to combat the resistant bacteria.
Just a few weeks ago, the first instance of bacteria resistant to the last-resort antibiotic colistin in the United States was observed, prompting the director of the Centers for Disease Control, Thomas Frieden, to warn that "it is the end of the road for antibiotics unless we act urgently."
This mounting problem has become the focus of a group of undergraduate students at Stanford who, through support from a new research program from Stanford's Chemistry, Engineering & Medicine for Human Health (ChEM-H) institute, are designing novel antibiotics from scratch that might one day stand up to superbugs.
Last October, Chaitan Khosla, director of ChEM-H and professor of chemistry and of chemical engineering, invited students to apply to an entrepreneurship program and selected two teams of undergraduates to tackle current health challenges. He also recruited Zach Sweeney, a biotech veteran and Stanford alum, and Cameron Gray, a scientist-turned-investor, to mentor the two groups.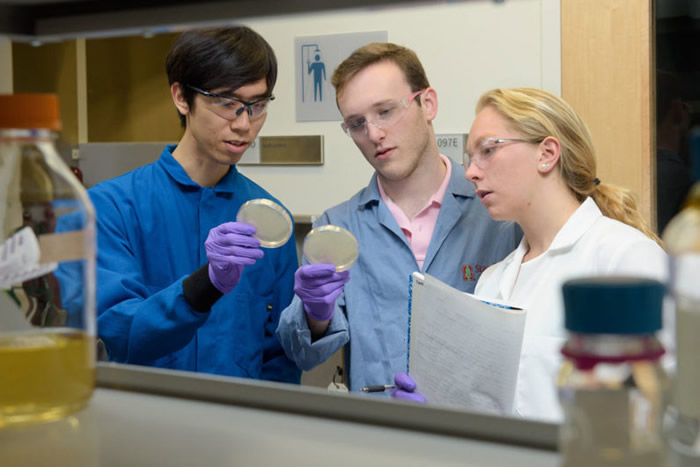 One of the teams focused on the imminent threat of superbugs. Together, Christian Choe, Maria Filsinger Interrante, Zachary Rosenthal and Catherynn Vuong designed a scientific plan that included molecular designs for new antibiotics, a plan to clinically test them and a budget for the project.
"As soon as I started to read literature about multidrug-resistant bacteria, I decided it was a huge need area and interestingly neglected by the pharmaceutical industry," said Filsinger Interrante, a Senior in bioengineering and part of the undergraduate ChEM-H team.
"Many factors combine to make antibiotic production unappealing to manufacturers, but three of the most important ones are smaller market size, the expectation of low pricing that minimizes profits and the development of resistance."
To avoid these pressures, the group focused on two strains of bacteria that have high mortality rates and are resistant to almost every existing antibiotic: Pseudomonas aeruginosa and Acinetobacter baumannii.
"We believe that these diseases are so bad that if we develop something that actually works, doctors will use it and hospitals will want to have it," Filsinger Interrante said.
Two months after the students began the project, the group successfully pitched their plan in a meeting with faculty, professional scientists and venture capitalists, and was awarded a grant of $10,000 by ChEM-H to create and test their idea.
This summer, they are conducting the first round of trials by pitting their custom-built antibiotic proteins against E. coli. If the potential therapies prove successful, the team will move on to test them against the more dangerous strains of Pseudomonas aeruginosa and Acinetobacter baumannii.
"I am so impressed and thrilled to see how far the students have come in such a short time," said Khosla, who is the Wells H. Rauser and Harold M. Petiprin Professor in the School of Engineering. He provided mentorship opportunities and entrepreneurial experience for the students, and he plans to repeat the program next fall.
"It was a good way to get undergrads involved in what ChEM-H stands for, which is bringing together chemistry, biology, engineering and medicine in a translational way," said Filsinger Interrante. "And it was one of the best experiences of my undergraduate career."
More information: Stanford University