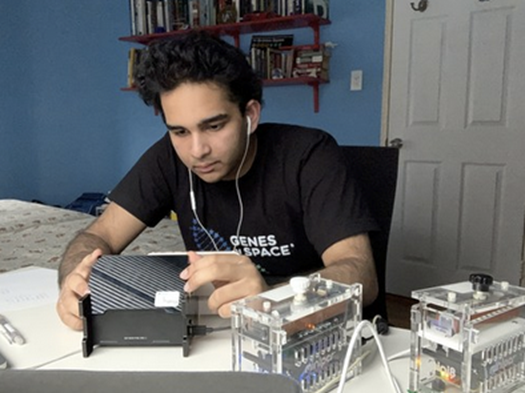 Genes in Space winner's experiment to launch to ISS
Kristoff Misquitta (18) won the 2020 Genes in Space competition with an experiment investigating why astronauts require higher doses of pharmaceutical drugs to achieve a therapeutic effect. His experiment was launched to the International Space Station (ISS) aboard Northrop Grumman Commercial Resupply mission NG-16.
His experiment delves into how spaceflight-induced changes in liver function may underlie reduced drug efficacy reported by astronauts. He proposed that increased production of key liver enzymes may cause pharmaceutical drugs to be broken down before they can act on their therapeutic targets.
NASA astronauts will operate the Genes in Space Fluorescence Viewer for the first time. The novel diagnostic tool developed by Genes in Space founding partner miniPCR bio, renders biomolecules visible to the naked eye.
Misquitta is on his way to MIT this fall, but won the 2020 Genes in Space competition as a student at Stuyvesant High School in New York City. His experiment will build on advances made by previous winners of the Genes in Space competition, including the first use of polymerase chain reaction (PCR) DNA replication technology in space and the first instance of CRISPR gene editing in space.
Original Release: PR Newswire