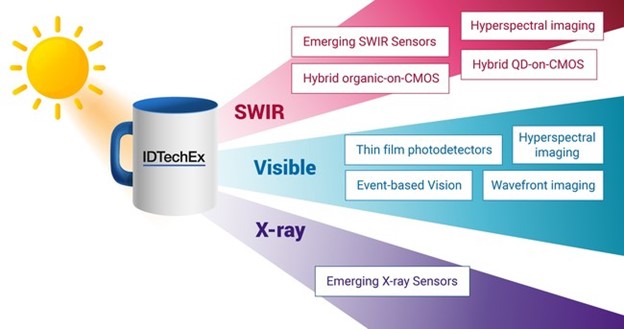 IDTechEx Report: Machine Vision Accelerating Adoption of New Image Sensor Tech
IDTechEx's new report: "Emerging Image Sensor Technologies 2021-2031: Applications and Markets", explores the market for emerging image sensors, covering a diverse range of technologies that span from thin film flexible photodetectors to event-based vision.
Today, there is an opportunity for more complex image sensing hardware with capabilities beyond acquiring red, green, and blue (RGB) intensity values at each pixel. This largely stems from machine vision, in which image analysis is performed by computational algorithms. Machine learning requires massive input data as possible to establish correlations to identify and classify objects. Acquiring optical information over different wavelength ranges, or with spectral resolution, is highly advantageous.
Emerging image sensor technologies offer many benefits, including lower cost, increased dynamic range, improve temporal resolution, spatially variable sensitivity, global shutters at high resolution, reducing the unwanted influence of scattering, flexibility/conformality.
The report covers many emerging technologies, specifically:
Quantum dots on silicon hybrid image sensors
Organic photodetectors on silicon hybrid image sensors
Emerging SWIR image sensor technologies, including extended range silicon.
Organic and perovskite photodiodes (OPDs and PPDs)
Event-based vision
Hyperspectral imaging
Flexible x-ray image sensors
Wavefront imaging
This report offers a comprehensive overview of the market for emerging image sensor technologies, covering a multitude of applications that range from autonomous vehicles to industrial quality control. Further details and downloadable sample pages can be found at www.IDTechEx.com/imagesensor.
Original Release: PR Newswire